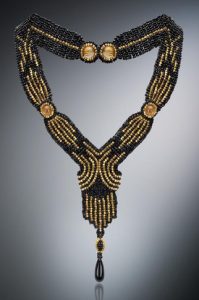 Artfix Daily has posted a terrific column about the upcoming Fine Craft Show at the Brooklyn Museum, November 22-23. Although the article is ostensibly about the show, its real value is that it briefly reviews the work of some of the 90 jewelry artists showing at the event and then provides links to their websites. If you can't make the show, browse the work of these marvelous artists.
One of these artists is Elizabeth Farber, whose work is new to me. One of the issues encountered by many beaders, those artists who use tiny beads in intricate designs, is that the jewelry is so labor- intensive, they cannot recover their costs unless their work is very well known.
This is a serious issue. It results in many beaders not making their work available commercially, thereby limiting public exposure of what in many cases are stunning designs. Others abandon the niche entirely.
Elizabeth Farber has come up with an elegant solution. She incorporates gemstones into the designs and, as a result, can recoup some of her labor costs.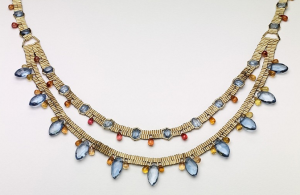 Now, I'm not saying she made the choice deliberately. That is, I very much doubt she looked at her work in this kind of calculating and cold way. That's me entirely. Moreover, her designs are stunning.
However, we're foolish if we overlook "perceived value" in calculating the eventual price of beading and pearl and bead stringing designs. To a customer, pearls have more value than wood or plastic or other faux gemstones, for example. As a gallery owner, I had to decline representing some beaders because I knew that the prices they wanted (and sometimes deserved) for their work were a real barrier to sales. While a gallery owner should make markets in new niches, and I attempted this with various degrees of success, price for design alone could and often was an insurmountable obstacle to sales. However, if the piece was also perceived to have inherent value, that is, if it was constructed with precious metals and gemstones, clients were far less reluctant to buy.
I've posted two images of her work. The first, a Deco neckpiece, is handwoven of 18K gold, black spinel and rutilated quartz. As you can see, the design is marvelous. Moreover, it could be executed by using beads alone. But, I suspect she can sell the beautiful piece far more easily because she's invested in the gold and gemstones.
In the second piece, she's used blue topaz and sapphires in a simple beaded piece. In this instance the gemstones provide the color component that elevates the piece. That is, the colors of the gemstones are unique to those gemstones. They can be faked, but not convincingly.
I hope you're not offended by this frank evaluation of what in any circumstance is stunningly beautiful work. I believe I owe it to you to give you my best advice…even if it's a little cold. Please consider what I call "perceived value" in determining the components you use in your work.