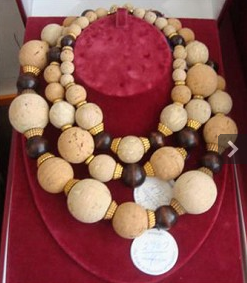 The Duchess of Windsor's love of jewelry is almost as legendary as her romance with the Duke of Windsor. However, we normally associate her jewelry with Cartier, including the famous flamingo and panther jewelry designed by Jeanne Toussaint with whom the Windsors collaborated on a number of pieces.
Less well known is the fact that later in life, the Duchess apparently developed a fondness for costume jewelry, especially the designs of American Alexis Kirk.
Alexis Kirk sold "statement" jewelry in the 1960s and 1970s from his studio at 55 Park Avenue. These are large, bold pieces that used cork, feathers, plastic and other materials not normally associated with jewelry, especially the jewelry belonging to Wallis Simpson. Kirk was apparently intrigued by ethic themes and his jewelry, including a feather boa and a neck to navel body ornament (both acquired by Simpson), does reflect this design interest.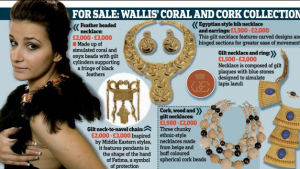 Apparently, she became acquainted with his jewelry sometime in the 1970s when she visited his studio with friends and commissioned five pieces from him. She was 71 at the time.
According to Kirk's widow, the Duke and Duchess spent 45 minutes discussing the designs. This isn't surprisingly as the couple loved jewelry and collaborated on pieces with other designers.
The jewelry was delivered to their penthouse at the Waldorf Astoria and the Duke sent Kirk a check for $89.
The five pieces were bought back from the Windsor estate in 1989 by Alexis Kirk after Simpson's death.  Last year they were auctioned by his widow.