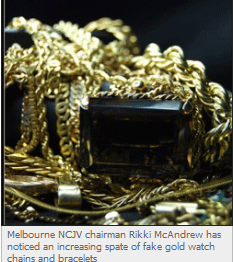 A recent spate of stories from Australia and Hong Kong may portend a troubling development for American jewelers, including bead stringers.
The Gold Anti-Trust Action Committee, a not-for-profit U.S.-based watch-dog group, is reporting that "Hong Kong goldsmiths have been sold hundreds of ounces of fake gold this year in one of the most sophisticated scams to hit the Chinese territory's gold market in decades."
According to the GATA, Haywood Cheung, president of the Chinese Gold & Silver Exchange Society, Hong Kong's century-old gold exchange, said he was aware of at least 200 ounces — worth $280,000 — of the fake gold that had been discovered by jewelers and pawn shops. But he estimated that 10 times that amount might have infiltrated the retail market.
One of Hong Kong's biggest jewelers, the Luk Fook Group, was tricked into buying $11,500 worth of fake gold this summer before putting its stores on alert, reports GATA. "This was the biggest hit ever," said Paul Law, executive director of the firm.
Similar stories are coming from Australia. Jeweller Magazine, the largest B2B magazine serving the jewelry trade in Australia, is reporting on an upsurge in sales of fake gold to jewelers.
According to Jeweller Magazine, the scam was discovered by Melbourne's Rikki McAndrew when one of his customers tried, apparently unwittingly, to sell him fake gold. McAndrews operates a gold trading business and is also the Melbourne president of the National Council of Jewellery Valuers (NCJV).
What's got industry observers rattled is the sophistication of the scams.
The GATA reports that in one case, "executives discovered a pure gold coating that masked a complex alloy with similar properties to gold. The fake gold included a significant amount of bullion — about 51 per cent of the total — alloyed with seven other metals: osmium, iridium, ruthenium, copper, nickel, iron, and rhodium." As a result the fake gold passed initial tests only to be discovered as counterfeit later with tests involving high temperatures and chemicals.
In Australia, McAndrews says the fakes were blocks of tungsten and coated quite thickly in gold. Tungsten is a metal with a similar density to gold.
McAndrews warns that the pieces look so genuine that retail jewelers won't know the difference without the expensive testing.
It's important to note that in both Hong Kong and Australia, the fake gold is being sold to retailers and pawn shops. That is, the gold is being sold as scrap, a time honored process where retailers buy gold and either melt it down for use in jewelry or re-sell as is.
It's also important to note that the fake gold is appearing as different karats. GATA is reporting fake gold stamped as 14 karat while McAndrews is reporting stamps of 9 karats as well as 14 karats.
With gold at $1,518 as of this writing, most of us smaller retailers and craftspeople have reduced our use of gold. But we haven't stopped using it. Moreover, in this unhealthy economy it's not unusual for clients and others to approach us with scrap.
The problem with the scams, say these organizations, is that the fake gold is so sophisticated that only expensive tests can determine its true properties.
As far as I can determine there have been no reports here in the US of similar scams with this level of sophistication. However, that doesn't mean we shouldn't be vigilant. Unless you have the equipment to test gold yourself–and remember that the Hong Kong counterfeit passed initial tests only to be discovered by later, more expensive ones–buy only from trusted sources.