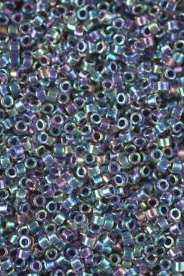 Pearl and bead stringing is a niche in the jewelry making trade. So, too, is beading. This can lead to some confusion because although they are distinct niches, the terms are often used interchangeably.
Beading refers to jewelry that is made using tiny seed beads, usually about 2.1 mm, meaning the beader needs about 21 beads to string an inch of jewelry. The seed beads are often made of glass and sometimes coated to produce a specific effect.  For example, iridescent or AB beads are coated with a finish that makes the bead shimmer. Another coating is called a marea finish which provides a metallic look to the bead.
Beaders make their jewelry using specific stitches. These include the peyote stitch, square stitch, herringbone stitch and brick stitch.
Pearl and bead stringers string beads, often gemstones, onto thread or wire and secure them with knots.  Pearl and bead stringers can and do use seed beads for decorative purposes, however, this niche is most often associated with gemstones and pearls which means that pearl and bead stringers should have some basic gemological knowledge.
Interest in beading has exploded in the last couple of decades, witness the appearance of a number of beading publications, and some beaders can and do produce beautiful work.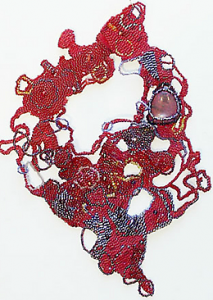 However, in my opinion, beading, which should be generally acknowledged as a form of art, isn't, although the occasional beader such as Joyce Scott has achieved recognition as an artist.
There are reasons for this. (Again, these are my opinions, but I believe they are informed ones.)
Beading, especially beading the intricate forms that are characteristic of the best beaded jewelry or object, take enormous amounts of time.  Beaders, like pearl and bead stringers, want to be compensated for their work. Usually, this involves developing some type of formula which takes into account the materials used and the time involved to produce the work. However, unless the beader has an already established reputation, he or she is unlikely to earn anything remotely related to the hours upon hours spent in producing one piece of jewelry or one object.
The second reason is related. Competition from China whose workers produce beaded jewelry that can sell for below ten dollars brings down the final price consumers are willing to pay for beaded work.
Finally, the price of a piece of jewelry is related to the materials that are used. Pearl and bead stringers often work with material that has value apart from the labor, pearls and various gemstone beads. Beaders typically do not.
As a result of these factors, and again this is my opinion, beaders do not tend to compete in the forums where the public, specifically the art and craft buying public, can be educated to the value and artistry of their work.  They tend to form tight communities and share their work and ideas within these communities. This of course is all well and good, but it does not result in general appreciation of the best work that is produced by very accomplished artists in those communities.
Pearl and bead stringers also produce work that can be called art. The work of reclusive artist Judith Ubick comes to mind in this regard. However, making jewelry in this niche does not involve the same level of time, meaning that pearl and bead stringers can be compensated for labor.  In addition, the materials typically have intrinsic value, an easier "sell" to consumers who might balk at buying a piece of jewelry based solely on design.