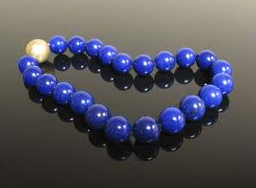 An article from a beading magazine this morning focused on the importance of clasp in bracelet manufacture.
While the author did remind readers that a sturdy, well-made clasp is far preferable to its opposite and provided some tips on what to look for, she did omit a couple of important points to consider.
First, clasps can be an important design component. Don't forget to factor that into your thinking when designing either a necklace or a bracelet.
Big, good looking clasps can be worn along the side or in the middle of the neck. A large clasp can be centered in a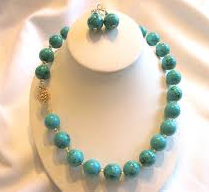 bracelet. Beautiful clasps can transform an uninspired design and can perfectly complement gemstones.
In the picture above, which I picked up from the internet, the large ball clasp is a decorative as well as functional element. In the picture opposite the designer should have used a larger clasp, one at least equal to the size of the beads. It would have transformed and elevated the piece.
Second, always, always consider the needs of your client. This is especially true of older clients who may have trouble with smaller clasps, particularly fishhooks. In general, do not use fishhooks with larger beads. The weight can pull the clasp apart and the space between the two attached beads and the clasp is too small for easy manipulation. The only exception to this is when designers use wire to attach the clasp and leave a large loop. This is totally unacceptable.
People have also called attention to the potential danger of magnetic clasps used on jewelry worn by people with a pacemaker  or other electric cardiac device.