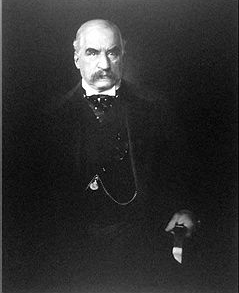 J.P. Morgan remains today as controversial a figure as he was a century ago. Some regard him as one of the great 19th century robber barons; others see his role in the industrialization of America more benignly. Whatever you think about him, the facts are that he played major roles in the formation of General Electric, U.S. Steel, International Harvester and in the creations of vast railroad empires. Morgan is also credited with averting a general collapse following the stock market panic of 1907.
Less well known is his intense interest in art, books and gemstones.
The first major gem collection with which Morgan was associated was one assembled by Tiffany renowned gemologist, George Frederick. Kunz. Kunz prepared a collection called "Gems and Precious Stones from North America" which was shown at the World's Fair in Paris in 1889 and consisted of more than 1,000 pieces.  Morgan, then a trustee of the American Museum of Natural History in New York, spent five months haggling with Kunz over a price for the collection, finally paying $15,000 for it. This collection became known as the Tiffany-Morgan Collection of Gems. (The Eagle Diamond, a 12 carat diamond found in Wisconsin was a part of this collection. It disappeared in the famous 1964 robbery of the AMNH by Jack Roland Murphy or "Murph the Surf." Of the hundreds of stones stolen in the midnight robbery, only a dozen or so stones were never recovered, including the Eagle Diamond. It's speculated that it was cut into smaller stones and dispersed.)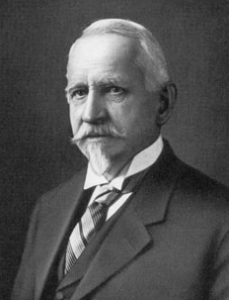 In 1900, Morgan commissioned Kunz to locate and buy the best gem specimens from around the world. This formed the second "Tiffany-Morgan" collection and consisted of 2,176 specimens.  It's unclear to me when Morgan acquired the fabulous "Star of India" sapphire, a 563.35 carat cabochon cut sapphire, famous for its size and its stars on both sides. In 1900, he gave the Star of India to the AMNH.
In 1901 Morgan acquired the third major gem collection, paying $100,000 for the 12,300-specimen collection of Clarence S. Bement, a Philadelphia industrialist. The collection was so extraordinary that when the late Harvard mineralogist Charles Palache saw the collection for the first time in 1898 he wrote, "All day I have feasted my eyes on minerals such as I scarcely dreamed existed." Morgan presented the AMNH with the collection and it was so large that two railroad boxcars were required to transfer it from Philadelphia to New York.
All three collections were donated to the AMHN. The New York City-based Museum was founded in 1869 and is one of the largest and most celebrated museums in the world. Many men, including Theodore Roosevelt, Sr., father of the 26th president of the U.S., played a role in its creation and development.  But those of us who love gems cannot ignore the major contribution of J.P. Morgan, whatever one thinks of his other achievements.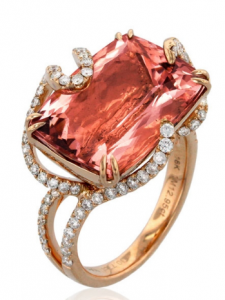 Morganiite was discovered in Madagascar in 1908 by George Frederick Kunz.  (Although Kunz is usually given credit for discovering morganite, it was actually discovered in California a few years before the Madagascar find.)
Morganite is a pink beryl, sister to more famous beryls, emerald and aquamarine. Morganite is colored a peachy pink by the presence of manganese or cesium. In 1911, it was named "Morganite" in honor of Kunz's famous patron, J.P. Morgan.
(The morganite ring pictured opposite is courtesy JCK. I've not seen a morganite with this deep color, most are pinker. It may have been heat treated.)