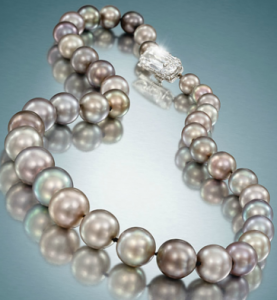 The stunning Cowdary Pearl necklace was recently auctioned at Christie's in London for $3.5 million, setting a world record for grey pearls.
The Cowdray pearls are rare natural pearls. There are 38 graduated pearls in the necklace and every pearl is a different color. They are untreated saltwater pearls.
The necklace belonged to Viscountess Cowdray, Lady Pearson, who, Christie's tells us was a "collector of fine art, furniture, as well as these remarkable pearls."
But who was Viscountess Cowdray? I had no idea. But, when I started looking, it got very interesting.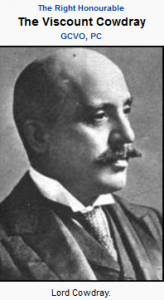 Viscountess Cowdary was born Annie Cass, the daughter of a Yorkshire farmer. She married Weetman Pearson (1856-1927), the son of a comfortably off middle class family.
As a young man, Pearson had declined to go to college, opting instead to join his family's modest construction firm. By age 23 he was managing important projects in England. As the firm grew, it was active all over the world, in Egypt and Canada, Spain and even the Hudson Tunnel in New York City where he introduced the "Greathead shield" to protect workers from cave-ins and a recompression chamber that prevented workers from getting the bends.
In 1889, the Mexico President Porfirio Diaz invited (then) Sir Weetman to Mexico to salvage Mexico's Grand Canal, Mexico City's drainage system which had been abandoned by an American firm.
His success with that project resulted in others, most notably the Tehuantepec Railway, Mexico's transisthmain rail line.
It was apparently during this period that he became interested in oil. Spindletop had been discovered in Texas and that state was in the grip of oil fever. He had noted tar pool in areas in Mexico and immediately began buying and leasing land. (Tar pools were a signal of the presence of oil and were what had first attracted speculators to Spindletop.)
Early results were mixed, but he did manage to build a refinery, pipeline and oil terminal and in 1906 received a major oil concession from the Mexican government.
Still later, Cowdray was a leader in developing munitions and tanks for the British during WWI. He was made a Viscount in January, 1917 and Lloyd George requested he become President of the Air Board where he apparently was responsible for a three-fold increase in aircraft.
On his death in 1927, an American newspaper described him as "one of the greatest pioneers ever sent out of Britain" Pearson PLC exists today as a global media and education company and the largest book publisher in the world.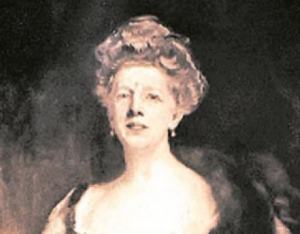 Far less is apparently known of Visountess Cowdary. A 1992 University of Berkeley publication notes: "Lady Annie Cass Pearson established a well-appointed home in Mexico City in a colonial mansion that had once been the British legation, giving large parties for Mexican society. The Pearsons donated £100,000 to found the Cowdray Hospital. Pearson considered it expedient to "lean over backwards" to favor the Mexicans in all his dealings with them." This might be true, but apparently Lady Cowdary's interest in health care was sincere and long lasting. (See below.
And, a Wikipedia entry on Annie's daughter, Gertrude, notes that Annie was "A woman of strong character, Annie Pearson was a feminist who was an active member of the executive of the Women's Liberal Federation."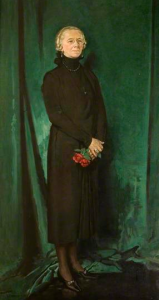 In addition to being a feminist (which at that time probably mean she was a suffragette), she was also a founder and very generous supporter of the Royal College of Nursing for many years.
What is clear is that these were no idle British aristocrats, but people of really extraordinary accomplishment.
I hope she enjoyed the necklace. I enjoyed learning about them.
P.S. Pearl and bead stringers: note the stretched knot in the necklace.