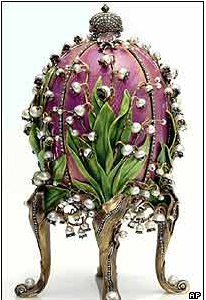 Unlike almost any other item in the history of jewelry, Faberge eggs have captured the attention of many in the public who don't have a professional interest in jewelry. With their association with history, war, romance and murder, and their exquisite craftsmanship, they are perhaps among the most high profile examples of jewelry art.
They illustrate what we professional pearl and bead stringers know very well. That is, jewelry and its design evokes the culture of a time and place and to know jewelry is to know the history of mankind.
These masterpieces of jewelry art were made from 1885 to 1917. The most famous were the large "Imperial Eggs" commissioned by Alexander III and Nicholas II for their wives as Easter gifts, but thousands of miniature eggs were also made. These were popular Easter gifts and could be worn on neck chains.
Faberge ceased production of the eggs during the Russian Revolution and Peter Carl Faberge fled Russia to die in Switzerland in 1920.
Now we have word that Faberge is planning a re-introduction of the eggs. According to the Faberge press release, "Fabergé has designed a collection of one-of-a-kind High Jewellery Egg Pendants, Les Fameux de Fabergé, each illustrating a traditional Russian proverb, through complex, multi-layered concepts brought to life by the finest craftsmanship in the world today."
The collection, titled " Les Fameux de Faberge" will retail for up to $600,000, and will be exhibited at Fabergé in Geneva from July 18 to Aug. 20. For those of us who are not in the market for $600,000 jewelry, Fabergé is also launching "Les Frissons de Fabergé," a collection of egg pendants with around 60 different designs at lower price points. I can't find any photos of the new lines, not surprisingly, so I don't know if they reflect the Rococo style favored by Peter Carl Faberge. The company indicates it is drawing upon a number of design ideas, so it will be interesting to see if the present day Faberge is as innovative as its illustrious ancestor.