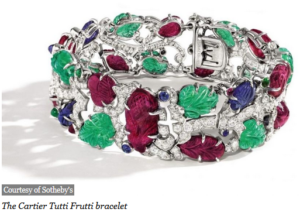 As professional pearl and bead stringers, we're often asked about issues that might seem a little far from our area of expertise, including questions about gemstones and cultural history. Rightly or wrongly, our ability to answer these questions influences the way we're regarded.
I've found that I enjoy following — to some extent – the big auction houses whose offerings are often reflective of key design moments in the history of jewelry. Knowledge about the general trend of jewelry history in turn establishes a reputation for expertise that is truly invaluable.
One such auction occurs today. Sotheby's Hong Kong is offering a Tutti Fruitti bracelet as part of its Magnificent Jewels and Jadeite Autumn Sale. The bracelet is from Cartier and is characterized as "rare" by the auction house, which unfortunately hasn't provided much more about its provenance.
Tutti Fruitti is the name bestowed upon an Art Deco style in the 1970s. The style itself was created by Jacques Cartier in the 1920s and was the result of a creative surge catalyzed by his exposure to the jewels of the Indian maharajah including carved colored gemstones as leaves, flowers, berries and fruit.
It's also notable that the gemstones incorporated into these designs are opaque, not transparent, a revolutionary development in perceived value. That is, opaque gemstones were not generally considered suitable for jewelry at the time.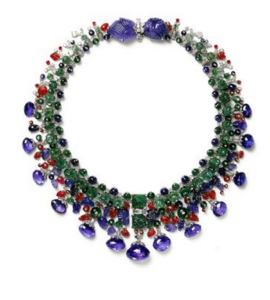 Perhaps the most famous piece of Tutti Fruitti jewelry is the Collier Hindou, commissioned by Daisy Fellowes in 1936. The bib included 785 gemstones, including 594 diamonds, supplied by Fellowes. Cartier added 238 diamonds and eight rubies to the total. It's also noteworthy that although the Tutti Fruitti style was Indian in its origin, Cartier included 13 faceted sapphires in the final design. Sapphires are considered an unlucky stone in Indian tradition, a tradition that continues to this day.