As we begin 2014 and confront the myriad problems facing the nation, anxiety over health care, joblessness, the government's apparent inability to do anything but blunder around in a flaccid economy, and so on and on, it's hard to escape the conclusion that an interest in making jewelry is somehow irrelevant or worse, inappropriate.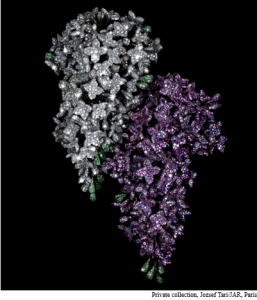 At least that was my response to the news that the Metropolitan Museum had mounted an exhibition of the jewelry of Joel Arthur Rosenthal or JAR. His huge, flower and animal based productions, covered with precious stones in (often) pave settings seem inconsequential to us who don't have the ability (or desire) to fly to Paris for an appointment with the reclusive jeweler. Worse, his jeweled animals and butterflies seem heavy and so vey generic. Jeweled flowers and animals. Been there. Done that. Seen it dozens of times from famous and not-so-famous artists.
What were they thinking? Let them eat cake? How depressing. How utterly inappropriate for the times we live in. How can this kind of jewelry be interesting or inspirational for  the general public, presumably the audience for the exhibition?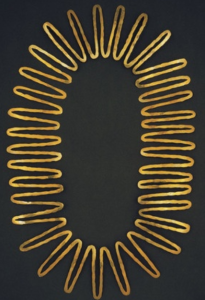 Then I realized I was overthinking. The Metropolitan made a mistake. For those of us who love jewelry and follow shows like this, it's a bad mistake, but that's all it is.
But then I circled back to my original reaction, that in times like these, jewelry is irrelevant, and I remembered the attention the jewelry by Alexander Calder has received in the last few years…shows at the Whitney, Metropolitan and an important sale at Salon 94 last year.
Calder worked in wire. Sometimes gold and silver wire, but most often base metal. He rarely soldered his jewelry, instead he hammered, twisted and attached with wire spirals. Nor is his jewelry "finished." Hammer marks are proud and visible. The wire spirals that attach components are equally visible and equally unashamed.
He is perhaps best known for his large "wearable art" earring mobiles and "breast plate" necklaces, remember, Calder was a sculptor. But he also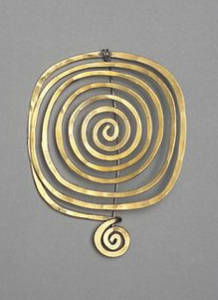 produced smaller, more wearable pieces that were gifts to his wife and friends. (Her wedding ring was a wire spiral.)
To revisit this jewelry is to remember that design is the basis of all fabulous jewelry. And fabulous design cheers the eye and – not to be too high sounding – the soul. In that sense, well designed jewelry is just as appropriate in bad times as it is in good times. (Perhaps even more so, since we need cheering.)
And, good design does not require expensive materials.
I've inserted a few more images of work by Calder below, so be sure to scroll down and without sounding too salesy, if you haven't worked in wire before, consider getting the "Working with Wire" DVD. Just imagine what you can do with a single piece of wire!