To help stay current with industry news and trends I set up google alerts that dump information into a g-mail account. I find this is a fabulous way to see the latest news and keep up with sites I'm especially interested in without having to go searching for them.
In my last post I discussed my belief that working with wire is a tremendous asset in expanding the manufacturing capabilities of a pearl and bead stringer.
This morning while browsing through my g-mail account, I came across this feature in JCK magazine – "75 Carat Briolette Diamond Necklace Sells for Record $11 Million." The diamond necklace was part of one of Christie's "Magnificent Jewels" sales in Hong Kong and, apparently, the sale price set a world record.
But that's not what interested me.
The necklace is put together with wire. Look at it below.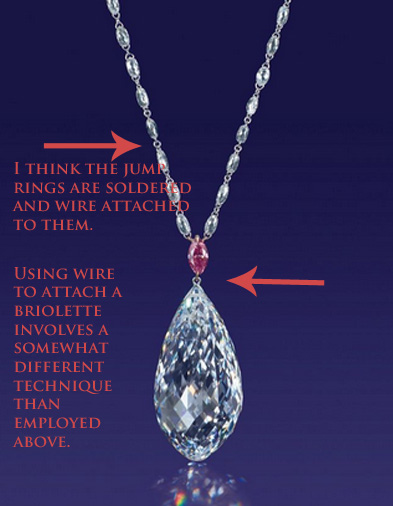 Look closely at the image. I can't really tell whether the middle jump ring is soldered or not – it probably is – but certainly the briolette and the smaller diamonds are attached with wire. So, too, is the ruby accent.
Although JCK doesn't say, I suspect the wire used is white gold. It's far easier to work in this kind of design than platinum.
While I don't believe I'll ever work on a 75 carat briolette, I do have the skills to produce this necklace.