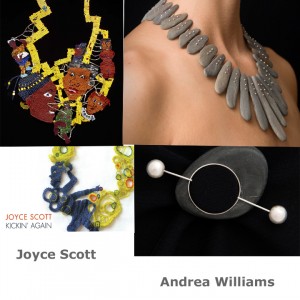 Some artists use jewelry as a means of expressing a political or philosophical point of view. Two such artists who manage to do this successfully are Joyce Scott, sometimes called the "Queen of Beading" and Andrea Williams who recently placed first in the Saul Bell Design Awards. These prestigious awards recognize artists "whose work challenges traditional perceptions of jewelry design."
Scott's work is perhaps more directly political as it incorporates images which refer directly and unmistakeably to political, race and cultural issues. Mobilia Gallery in Massachusetts says this about Scott's work: "Her exuberant beaded sculptural forms and neckpieces are provocative and confrontational, addressing contentious political and social issues such as gender, race, and class struggle."
Andrea Williams's work is more subtle, but equally powerful. Williams is committed to creating socially and environmentally responsible jewelry, no mean task since she eschews mined gems as environmentally damaging. As a result, she uses stones, including beach stones, and recycled metal in her work.
Although quite different, the work of these artists has much in common. Both use jewelry techniques to communicate a philosophical or cultural message. And both artists are absolute masters of their mediums.
Joyce Scott uses beading to produce magnificent sculpture and a scorching narrative. And, as the images above illustrates, she is also a colorist. The colors draw you in, the images communicate the ferocity of her message.
Williams uses a variety of techniques to produce her jewelry. She is a lapidary and metalsmith. Her stones are carved, shaped and polished then the design is hand fabricated. Every technique is laborious, time consuming and requires tremendous skill.
And, both artists push the boundaries of their mediums.
Not all of us are compelled to produce jewelry with a message. However, knowing as much as you can about your medium and incorporating new techniques into your jewelry will push it to new levels.