Recently, independent jewelry designer Stevie Koerner ignited a controversy when she accused Urban Outfitters of stealing her line of "United/World of Love" necklaces.
Koerner sells a line of necklaces on etsy in which a heart is stamped through metal sawed in the shape of a state. She noticed Urban Outfitters selling a near identical necklace and accused the retailer of ripping off her design.
The controversy spilled over from the internet to the mainstream media with the Washington Post, the Philadelphia Inquirer and others reporting on the controversy.
Urban Outfitters denied the allegations, saying it "unequivocally denies copying independent jewelry maker Stephanie Koerner." The statement also said "the [necklace] idea is not unique to Koerner and she can in no way claim to be its originator."
Here are side-by-side images. The left is an image of jewelry produced by Koerner and the right is an image of jewelry sold by Urban Outfitters.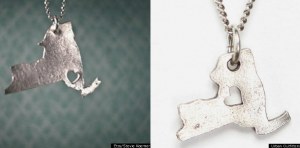 The controversy brings up a question that jewelry designers are constantly aware of: that is, when do you cross the line between sharing ideas and stealing ideas.
One of my favorite jewelry designers is Sydney Lynch, a Nebraska-based artist who used to show with me in the gallery.
She once mentioned that all artists "share" ideas. And, it's true that you can see the idea sharing in the waves of different techniques that are incorporated in jewelry, for example, metal fusion. But, however, much Sydney may "share" ideas, her jewelry is instantly recognizable, always fresh, always beautifully designed and always unmistakably Sydney's.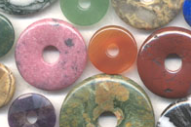 On the other hand of the spectrum, I once witnessed a heated discussion between two artists on the issue of donut holes. Donut holes usually refer to a type of stone with a large hole in the center, although donut holes can refer to metal that is similarly created.
In this heated discussion, one artist accused the other of stealing her idea of using donut holes in her brooches.
Frankly, it was a sorry display and probably the result of too much wine on a hot opening night in Houston as both are accomplished jewelry artists.
So when is "sharing" really stealing? Sometimes the answer is obvious and sometimes it's not.
However, the designer always knows when he or she has crossed the line. Don't do it. Study the designs of others. Use their ideas and give them your own spin, but don't copy.