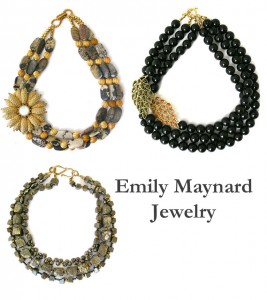 Jewelry designer, Emily Maynard, is receiving attention for her "transformation of flea market beads into eye-catching earrings or reinvigorating an estate sale necklace with a blingy brooch turned pendent."
Recycled jewelry does have some cache, but the use of a certain type of material in itself isn't enough to claim the mantle of well-designed jewelry. That isn't the case with this pearl and bead stringer, for Maynard's jewelry is well designed. Let's take a closer look at what makes it good and where we might have a reservation.
Design
The design is simple, but effective. Maynard either mixes inexpensive stones or combines them with a large decorative element on the side of the necklace. This is a good design, but it's not unique. (Frankly, that doesn't matter. Good design is good design.) In addition her materials aren't unique except insofar as they are re-cycled and who among us hasn't cut up an old piece of jewelry to re-do it or integrate it into something new?
Color
Here's where it begins to get interesting. I would say she has a terrific color sensibility. Her color matches are subtle and sophisticated. In the example above, particularly example three, stones are in the same or similar hue. Selecting these beads requires a really discriminating eye. Also, notice that she appears to prefer matte finish to a shiny finish stones. Only the onyx above are shiny. Matte finishes can add wonderful texture to a piece.
Manufacture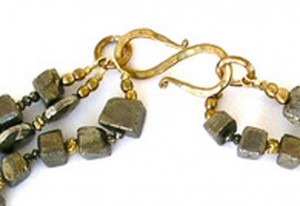 I haven't handled a Maynard piece, so this is based upon what I can see. In the picture opposite, I've blown up the clasp and jump rings so you can better see what I'm talking about.
All her necklaces, including this one, end with small beads. This is not uncommon. Sometimes, especially when you're using large beads, adding several small beads to the end of a strand enables the user to better manipulate the clasp. Other times, adding small beads like this can "stretch" the number of beads you have in a strand.
She's using a simple, hammered S-clasp which adds length, is good looking and easy to manipulate. Also, note that she's pushed down one end of the S to help prevent that jump ring from sliding off the clasp. This is essential when you're using S's.
She is using crimps to secure the wire to the jump ring and has left a loop at the end so the strands aren't too tight. I personally dislike the appearance of wire anywhere in a necklace and would have looked for another solution.
Finally, if you look closely at the jump rings, especially the one on the left, they do not appear to be soldered. This is not a good idea for necklaces that are heavy as these probably are. The weight can pull the jump ring apart.  Also, users aren't especially mindful of design weaknesses and can pull a necklace which will also pull apart an unsoldered jump ring. Please notice, too, that because she's using crimps, there is no manufacturing reason to use unsoldered jump rings.
Professional pearl and bead stringers must look at other work critically, not to steal ideas, although as one very famous artist I represented once told me, "we all bat around the same ideas, it's execution that counts."  In Maynard's case, she has a very discriminating color sense and color palette. However, I have some reservations about her manufacturing skills.