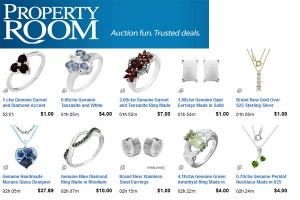 I recently stumbled on a new resource that might be of interest to pearl and bead stringers.
It is an auction website called www.propertyroom.com. It's apparently been around since 2001, but it is new to me and may be new to you.
The site works with over 2000 police and sheriff departments to source property that has been seized or forfeited or used in criminal cases. At some point–after a trial, for example, or after a certain amount of time has passed–ownership of the property transfers to the state.
The problem for these police departments, however, is that their property rooms get over crowded and storage becomes an issue. And although police departments will conduct their own auctions, the managing and hosting of such auctions can and often does cost more than the revenue generated.
Enter propertyroom.com. It coordinates with police and sheriff departments to sell the overflow. According to news sources, the company keeps a portion of the sales and returns a portion to the operating funds of states and municipalities of participating departments. Jewelry and watches apparently make up about 60 percent of sales.
I spent some time on the website recently. Most of the jewelry is low grade commercial jewelry, however, the costs are extremely low and the opportunity for pearl and bead stringers is to pick up jewelry that can be broken up and used for components.
For example, yesterday the site was auctioning what it called a pair of "genuine South Seas earrings." The pearls looked like freshwaters to me, but ear wires were 14K and the starting bid was $1. Even with standard shipping charges that's a tremendous savings over the wholesale cost of gold ear wires.
A number of pearl and bead stringers are using chain in their designs. At this writing, the site offers a number of pendants on chains that can be bought for similar savings.
According to JCK, (Jewelers Circular Keystone), propertyroom.com employs a gemologist who evaluates the higher end jewelry and the website claims to make a "good faith" effort to accurately describe the goods it sells. However, basically, you're on your on.
Nevertheless, I think the site might be a low-cost resource for pearl and bead stringers looking for jewelry components.