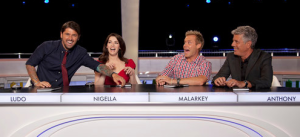 One of my boys is a professional chef, so when one of the networks started promoting a new food show called "The Taste" my husband and I tuned into watch.
Essentially the concept is that a cook presents a spoonful of food to four judges who then judge it in a blind taste test. That is, the judges don't have any idea who prepared the food. Competitors included professional and home cooks.
Nigella Lawson, a popular British chef, is one of the judges. Nigella is renowned as a "domestic diva" in Great Britain and increasingly in the United States.  I mention her specifically because she is very supportive of home cooks. Two of the remaining three judges are professional restaurateurs and the third is a well-known food critic.
Although winning competitors included a few professional chefs, the majority of the winners were home chefs.
I couldn't help but think about some of my students who took my courses, went on to produce and sell stunning jewelry, and yet still regard themselves as amateurs or hobbyists. They present themselves diffidently and without the self-confidence they should show as creators of beautiful and lasting jewelry.
Whether you take my courses or learn from someone else, the skills you develop are professional skills. They are the same skills the big jewelry houses rely upon to manufacture their jewelry. They're the same skills you see in pieces at auction at Sotheby's or Christies.  And, they're the same skills that are employed by local jewelers to produce and/or repair jewelry.
This is not to suggest you display arrogance about your work (as some of the competitors did on the television show). It is to suggest that you present your work self-confidently. If someone asks you where you learned your skills, say you took professional courses or that you studied professionally. Because these are professional courses.
But, for heaven's sake, do not begin a sentence with "I'm just a…."
You're not.