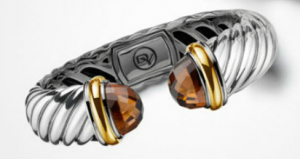 A recent study by Harrison Group and American Express has implications for the work of pearl and bead stringers.
That study found that affluent millennials—buyers born between 1979 and 1993—rely on luxury brands to communicate their success more than the two preceding generations.
While most of our work isn't "branded" in the same way that, say, David Yurman's work is branded, we are producing one of a kind art jewelry and to that extent, we are producing "luxury" products. Nevertheless, brands like David Yurman are instantly recognizable with peers who presumably also know the price tags associated with them.
My own experience confirms the truth of this study–that millennial buyers often gravitate toward brands rather than true art jewelry. Millennials visiting the gallery were often unimpressed with the work until they realized that art jewelry, not commercial jewelry, is a world of its own, with its own icons and status symbols. And in this context, it's important to note that the study also found that millennials agreed they liked brands that helped them feel different and unique, smart, successful, trendy, and helped them feel they owned something rare.
This means millennials must be educated and it is one of the reasons I so often write about jewelry in general rather than simply focusing on pearl and bead stringing. Jewelry artists, including pearl and bead stringers, must bring a wealth of knowledge to the table. They must know about their own work, its sources, materials and techniques and they must be able to coherently discuss the work of others in the same way.