I was reviewing my gmail account today for various notifications and a number of pre-Christmas articles reminded me of one of my pet peeves. Jewelry designers are always hungry for publicity and rightly so. After all, we can't evaluate, search for or learn about emerging designers without exposure.
But with exposure, jewelry designers ought to make their work publicly available. I seriously dislike being presented with an article about a new designer with a single photo of him or her bent over the bench. I want to see the jewelry, not the jeweler at work. Tell me why I should make an effort to read an article written by a layperson who more often than not can't describe the work accurately? Tell me why I should spend that time when a couple of images will tell me whether I want to pass or learn more?
I know from first-hand experience that a significant degree of this reticence derives from the fact that designers, particularly in the early stages of their careers, fear that people will steal their designs.
My advice: Get over it.
Your unique design vision will manifest in the body of your work. Rip-off designers can't sustain your vision because they don't have it. Moreover, you need a public record of your work. I know one designer – one of the most creative pearl and bead stringers who ever lived – who refuses to make images of her work public. When she departs, her work, in large part, will depart with her. This sickens and saddens me.
Yes, designers swap ideas. Notice the proliferation today of oxidized silver, a trend that began a decade ago with prominent German designers. But, your vision is your own. That's what's sustainable and that's where your reputation will stand or fall.
………..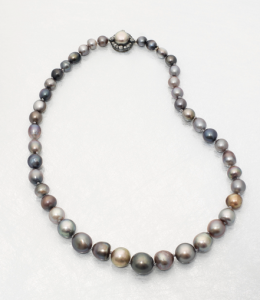 Christie's is auctioning a 19th century natural pearl necklace owned by Queen Isabella II of Spain today in London.
I mention this because it is entirely possible that a professional can spend their entire working career in the trade and never see a natural pearl – that's how rare they are.
First, a little background on Isabella. She was born in Madrid in 1830. Her father, Ferdinand VII of Spain originally collected the pearls for his wife, Marie Christina of Bourbon.
Notice the word "collected." We're so used to looking at matched pearls on strands and hanks, we sometimes forget that before the advent of cultured pearls – that is pearls cultivated by mankind – natural pearls were collected one pearl at a time and then laboriously matched to form a strand, an effort that often took years. Pearls, of course, are still matched by hand by technicians working on pearl farms or elsewhere on the supply chain. But, scarcity of cultured pearls isn't an issue today.
The necklace was originally sold at auction in 1878 after Isabella was deposed in the "Glorious Revolution." It was sold again in 1960.
Pearl and bead stringers, notice the knots between the beads.