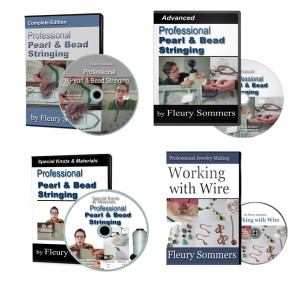 Years ago when we developed our first and flagship product, the two-volume Professional Pearl and Bead Stringing DVD, compression technologies weren't as accessible as they are today. The choice we had back then was to ignore information we regarded as important or to create a two-volume set. We opted for the latter.
Although we made every effort to keep costs down, the result — at $39 — was a relatively expensive product.
We were and are proud of that effort. It enjoyed tremendous success and hundreds of students took the course and went on to create beautiful and beautifully manufactured jewelry.
Recently, though, we reorganized and updated the material and compressed it onto one disc. The result, at $19.99, is a far more affordable DVD. In addition, we've "bundled" that DVD with a second one which contains information we developed over twenty-five years in the gem trade. Finally, we've priced the entire set — that is, the four DVDs in our suite of products — at $39, the price of the original DVD. Learning the material on these discs enables the student to master all the jewelry making skills in these niches. The next step would be learning how to solder.
The second change we've made is to eliminate free shipping. Our margins are just too small not to include a minimal shipping charge. We do understand that many internet marketers have used shipping as a profit center and as a result have made consumers wary of them. However, we do not. Our shipping costs are straightforward and are explained here.
Learning how to string pearls and beads and how to manipulate wire are life-changing and life-enhancing skills. We hope you'll enjoy our new product and business model.