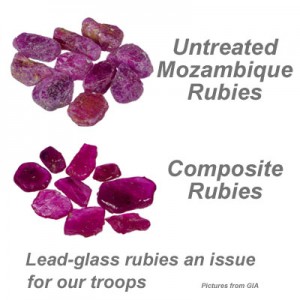 All gem scans are bad, but some are just worse than others. And, when our troops are scammed, it's just unconscionable.
Credit goes to Antoinette Matlins, a highly respected gem expert and writer, for uncovering this scam and issuing public warnings.
I'm posting this in the same spirit. You may have a loved one or friend serving in Afghanistan. If he or she is considering buying a gem because it's cheap or near a mine, caution them.
Troops are coming home with rubies only to find out that the gems are not rubies at all. In fact, they're not even gems, but a blend or composite of extremely low quality corundum infused with lead glass.
Other trade organizations are noticing the numbers of composite stones. JCK reports that a St. Louis jeweler had the unenviable task of telling a colonel in the Armed Forces that the eight "rubies" he bought – and paid $5000 for from an Army and Air Force Exchange Service approved vendor were worth less than 80 percent of what he paid. In the same report, jewelers are indicating that the scam is so widespread they are no longer buying rubies from the public.
As with other manufactured gemstones, there's nothing wrong with these composites as long as the consumer knows what they are and how to take care of them.
These lead-glass composites are pretty. But they're extremely fragile. An accidental blow or knock can break them and Matlins reports that even lemon juice can damage them. In addition, unless a jeweler knows they're composites, they will crumble during an ordinary setting process.
As with any gemstone purchase, there are a number of commonsense steps to take:
Buy only from a reputable dealer.
Ask if the stone has been treated. Most rubies are heat treated and this is standard trade practice.
Insist the dealer specify what he is selling on your sales receipt.
If you or your loved one is looking at rubies, familiarize yourselves with a 10x jeweler's loop. Lead-glass rubies show gas bubbles and blue flashes under magnification.
Matlins reports that members of the Accredited Gemologists Association (AGA) are willing to provide free identification for consumers who suspect they may have been sold a composite ruby. There are some limitations. The free service is for identification only, not for an appraisal or valuation. Contact: www.accreditedgemologists.org to find an AGA member in your area.