I maintain a separate g-mail account where I receive jewelry newsletters, press releases, gemstone and business news and other jewelry industry updates, including bead stringing news.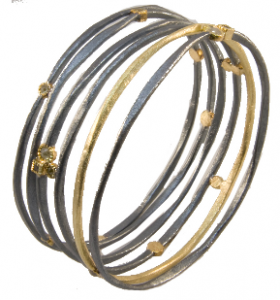 Work commitments pulled me away from a daily review of this account for about a week. And, today, as I slogged through the material, some jewelry industry trends emerged which should be of interest to pearl and bead stringers.
Given the high price of gold, it's not surprising that more jewelers and designers are turning to silver as the metal of choice. But we're seeing an increased amount of oxidized silver with or without fused gold design elements. The Jewelry Information Center says "Designers love blackened silver for its tough, not so prissy, appeal." I agree. Pearl and bead stringers can easily oxidize silver findings and chain with a commercially prepared solution or with a homemade recipe.
An increased number of jewelers and designers are explicitly paying homage to "green" initiatives. Many designers are using what is often called "renewed" metal which I assume is scrap metal melted down and re-used in new products. This practice, of course, is as old as the jewelry industry itself. What's new is the attempt to differentiate brands by this practice. Not a bad thing, just interesting.
Commercial jewelers, too, are getting on the environmental bandwagon. One is planting a tree in honor of every couple who buys a ring from it. This company is also sending seeds to the newly engaged couple.
Perhaps a reflection of the environmental movement, the color green is forecast by a number of well-regarded publications as the color choice for the fall. Tourmaline and peridot, of course, are widely available for pearl and bead stringers.
A number of publications suggest that long, long necklaces will be popular this summer with or without medallions. Others say that collars will be popular. Both are gorgeous and never really go out out of style.
The Jewelry Information Center suggests that we'll be seeing increased numbers of sliced diamonds. These diamonds, as suggested by the name, are sliced thin and polished on both sides. A number of Indian dealers began showing these wonderful gemstones a couple of seasons ago and they are marvelous. Indian dealers tend to mount the diamonds in oxidized silver settings. But as the stones have caught the attention of western designers we're seeing the diamonds mounted over another gemstone to create interesting color plays. In addition, we're seeing non-diamond gemstones, carved sapphire, quartz and other hard stones, that are sliced thin and carved and mounted in gold.
Given the interest in green, we may see a renewed interest in gemstones and beads that are more "organic" that is, not finished to the shiny surface we're used to seeing in many gemstones. A decade ago, some manufacturers were tumbling some gemstones such as onyx and lapis to a matte finish and they were gorgeous but disappeared from the market after only a brief period. We may see a resurgence of these beads. Similarly, we may see more rough cut gems and industrial diamonds in mainstream jewelry.
What this brief review of jewelry trends makes clear is that far from retreating in the face of this dismal economic climate, designers, commercial jewelers, pearl and bead stringers and gemstone manufacturers are engaged in a really fabulous surge of creativity that may affect the way we look at jewelry for many years.