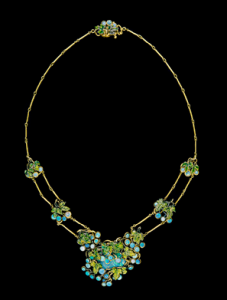 Pearl and bead stringers and those of us who love jewelry history may be in for a treat. Last week, the Hollywood Reporter announced that Tiffany & Co. has signed a deal with Warner Bros. and the producers of the new Great Gatsby film. The film, the seventh remake of The Great Gatsby is due out in December, 2012. Tiffany will supply jewelry, china, flatware and other home accessories for the home of Jay Gatsby, the lead fictional character.
According to the Hollywood Reporter, costume designer Agnes Martin was drawn to Tiffany because F. Scott Fitzgerald was a Tiffany customer and apparently Louis Comfort Tiffany owned a home on Long Island ran around with the social crowd described in Fitzgerald's masterpiece.
Now, this is of course nitpicking and maybe even nitpicking for the fun of it, but we jewelry buffs may be excused for raising a small question.
Louis Comfort Tiffany was a towering figure in design. In 1902 he became design director for his father's already legendary company, Tiffany, and he was almost single-handedly responsible for introducing and popularizing Art Nouveau in the United States.
Art Nouveau is the movement that began in Europe under various names in 1890 and lasted until about 1910. Art Nouveau is characterized by soft, flowing lines, sharp curves (the so-called whiplash curve), and an emphasis on nature and organic themes. Tiffany incorporated these themes into his work which included lamps, tiles, glass, enamels, interiors, desk accessories and more. He also designed Art Nouveau jewelry, although many believe his achievements in this area have been under-recognized.
As a movement, however, Art Nouveau was over well before the beginning of World War I.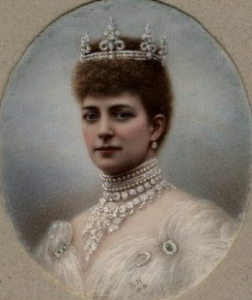 Overlapping Art Nouveau and extending somewhat beyond it is the Edwardian period, named for King Edward VII and his wife, Alexandra. Edwardian jewelry is characterized by the use of platinum (which jewelers had just learned how to work), diamonds and pearls.
The Roaring 20s ushered in the Jazz Age, a territory F. Scott Fitzgerald made his own. 1920 also saw the emergence of Art Deco in jewelry whose straight lines, geometric shapes and bold bright colors reflected the temper and dress of the times. Jewelry was modern and sleek and ignored previous conventions regarding the use of gems by grouping what had been seen as "clashing" combinations, for example, emeralds with sapphires, jade and amethyst, etc.
Of the major jewelry firms, the French firm Cartier, not Tiffany, is associated with Art Deco. Most jewelry historians agree that Cartier generally ignored Art Nouveau during the time when the movement flourished, focusing instead on the creation of Edwardian jewelry. But beginning about 1909 (the same year Cartier opened its New York office), Louis Cartier, influenced by Diaghilev's Ballets Russes, began to experiment with bold color juxtapositions within a geometric context. Cartier calls these early designs "the Modern Style" but they are recognized as the beginning of what became the triumph of Art Deco.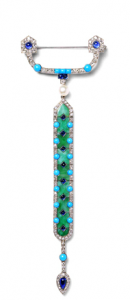 The Great Gatsby was written in 1925 and is often called "The Great American Novel." Whether you agree or not, it does capture the spirit of the Jazz Age. It's set in Long Island and New York City between spring and autumn, 1922.
According to the Hollywood Reporter, Tiffany will create one-of-a-kind jewelry for the new re-make of The Great Gatsby. The question for this nitpicker is whether Tiffany will create Art Nouveau, Edwardian or Art Deco designs.
There are some clues. The Hollywood Reporter says Tiffany will create platinum set diamonds and strands of pearls which sounds much more Edwardian than Art Deco. In addition, it's worth noting that Cartier apparently lent part of its Art Deco collection to the 1970s remake of The Great Gatsby which starred Robert Redford and Mia Farrow.
Nitpicking aside, whatever Tiffany creates for the movie, it's bound to be spectacular a treat for those of us who love period pieces in which jewelry has at least a supporting role.