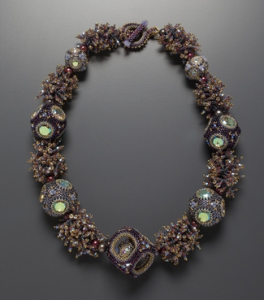 (Note: Yesterday I rather casually tossed off a suggestion to beaders that was criticized by one artist. In the following, I hope to clarity my thinking and meaning.)
Beading, the technique of using complex stitches and tiny seed beads to create jewelry, often in complex designs, became popular a couple of decades ago. Since then a number of artists, primarily women, have produced stunning, jaw dropping work and pushed the limits of the medium to produce beaded sculpture, book covers, quilts and other work.
The achievements have been recognized by other artists, craft museums, galleries and publishers, including Lark Publishing, a leader in providing exposure for craft artists.
Despite the undeniable quality and beauty of the work, many beaders, including prominent artists, are unable to make a living selling their work. They supplement their income by teaching, running bead stores and by other means.
This is true for many artists and I don't for a minute suggest it is peculiar to beaders. I do suspect, however, the issue is more acute for beaders.
Why?
There is always a tension between the price of a work of art, especially for emerging artists, and its perceived value. An artist will judge his or her work by the excellence of its design and the skills necessary to produce it. A client looks at the price of the work, its durability and what can be called its inherent value.
Let me explain. Beaded work is primary created from tiny inexpensive seed beads, mostly glass, base metal and crystals. The thread used in the marvelous intricate stitching typically is some form of nylon and, despite the best efforts of manufacturers, over time, nylon stretches and can break. This is an issue for wearable art.
Jewelry artists typically build in some kind of pricing to recoup labor costs in their work. But a complex piece of work can take months.
So, while well-heeled clients who "get" beaded work may be willing to pay design and labor-based prices, less affluent clients shy away. The tension between price and perceived value is too great.
This hurts beaders.
So, how to resolve it?
As with any piece of art, it sells better if the artist takes the time to explain the materials and techniques used to create it and explains the care it will need for maximum longevity. But for beaders, I think this isn't enough. I'd suggest that beaders begin to incorporate gemstones into their work and learn how to manipulate wire in their patterns. This answers the value equation clients make when evaluating work. Beaders should go to the gem and jewelry shows, learn the properties of various gemstones and price the small diameter beads. They're often more affordable than many suspect.
Please understand me. I'm a former gallery owner, goldsmith and professional pearl and bead stringer. I love beaded work and believe it's underexposed and underappreciated. I would also like to see more beaders making a living with their work rather than having their energies drained by constant teaching and retail activities. I make the suggestion in this spirit.