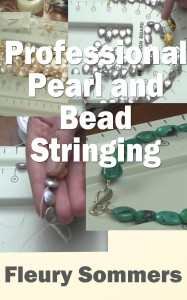 Today, I'm really pleased to announce the publication of "Professional Pearl and Bead Stringing" on Amazon's Kindle.
The illustrated Kindle book is drawn directly from the Professional Pearl and Bead Stringing DVDs, and present the three projects in the same sequential way, that is, projects are presented from the easiest to the most difficult. It also provides the critical information for beginners on how to use commonly used tools and materials, including thread and wire.
The book is illustrated with the images showing key techniques such as the half-hitch and attaching a clasp to gemstones with thread. With the images and the step-by-step text, the student should have no difficulty mastering the skills presented and acquiring the basic knowledge to enter this jewelry making niche with confidence. (If you buy the book and do have an issue with something I've presented, please contact me at fleury@fsommers.com and I'll respond and/or edit the book as necessary.)
Students completing the book will acquire the foundational, professional skills in this jewelry making niche. Once those skills are in place, the student should be able to confidently acquire other skills, if necessary, to support his or her unique design vision.
The book is available on Amazon for $6.99. It will be available soon on the sites of other major retailers, including Barnes & Noble's Nook and others. I'll post a list with links when the book is available on those sites.
I hope you enjoy it.