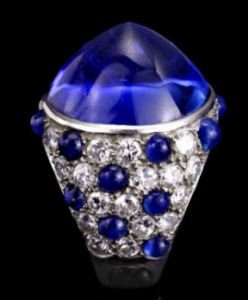 A new book from Sotheby's jewelry experts "Celebrating Jewellery: Exceptional Jewels of the Nineteenth and Twentieth Centuries" features a ring owed by Daisy Fellowes, a name I didn't recognize.
Turns out Daisy Fellowes was a French heiress who as a major social figure and Paris Editor of American Harper's Bazaar had a significant influence on fashion, including jewelry. Most notably, she was instrumental in popularizing Cartier's tutti frutti style.
This style was created by Jacques Cartier and is characterized by combining a profusion of different gems and gem cuts in a piece of jewelry. The gem cuts include faceted stones, leaf, flower, berry  shapes, cabochons and others. The gems are always set in platinum which contributes to their light, airy feeling..
Cartier began his Indian journey in 1901 when he was asked to create an Indian necklace for Queen Alexandra, wife of Edward VII. The necklace was to be used with three Indian gowns sent to her by Mary Curzon, wife of Lord Curzon, the Viceroy of India. (Mary Curzon was the daughter of Levi Ziegler Leiter, the co-founder of the Chicago department store Field & Leiter, now Marshall Field.)
In 1911, Cartier made his first trip to India where he consolidated his contacts with India's royalty. This stimulated a gigantic leap in new creativity and a fusion of Eastern and Western influences into the style that came to be known as tutti frutti or "fruit salad," a reference to the many different gemstones used in the jewelry. It was also called the Mogul Style and is a part of the jewelry we group together as Art Deco.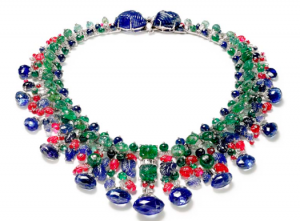 The style became particularly popular in the 1920s and 1930s.  And it was in 1936 that Fellowes asked Cartier to create what became known as the Collier Hindou, a sumptuous collection of diamonds, carved rubies, sapphires and carved emeralds. Fellowes later had the necklace redesigned for her daughter and Cartier says the original design was totally lost. (The picture opposite is of the tutti frutti necklace Fellowes created for her daughter.)
In addition to helping draw attention to the tutti frutti style, Fellowes's jewelry was an inspiration to designer Elsa Schiaparelli, a close friend. It was Fellowes' Tête de Belier (Ram's Head), a 17.27ct pink diamond from Cartier that was apparently the inspiration behind the color shocking pink, the shade of pink used on the perfume box that was one of Schiaparelli's trademarks.
While Fellowes' influence may be somewhat overrated in some of the materials I looked at in preparing this, the importance of Cartier's Mogul or tutti frutti style cannot. The combination of different color of gemstones and different cuts had been unthinkable in jewelry design. Equally unthinkable had been the combination of materials such as enamels and coral which became trademarks of Art Deco.
These little bits of social and cultural history not only give us a glimpse of the past they also illustrate how ideas, influences and experience can fuse into remarkable and permanently beautiful design ideas.
(By the way, I came across this Pinterest board dedicated to Daisy Fellowes which might be of interest.
https://pinterest.com/ccmfarrow/power-of-style-daisy-fellowes/#