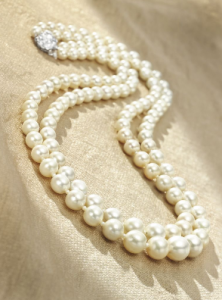 A rare double strand natural pearl necklace is being offered for sale by Christie's at its October Magnificent Gems Auction today. The event is noteworthy because matched strings of natural pearls are increasingly hard to source.
This necklace is composed of 120 large-sized individual pearls from 6.50 mm to 12.25 in diameters, ranging in color from white to light cream with subtle rose and green overtones. The necklace is accented with a 3 carat, D color diamond clasp signed by Cartier.
I can find no other information on the necklace's provenance which is too bad.
This is the third major sale of natural pearls in recent years from Christie's. The first was a single strand that had been owned by American Woolworth heiress Barbara Hutton and Marie-Antoinette, among other European royalty. In 2007, Christie's sold the historic Baroda Pearls worn for centuries by the Indian Maharajas from the Royal state of Baroda.
Pearl and Bead Stringers
Note the clean, tight knots between the pearls. In a necklace like this, you might expect to see aged silk, yellowish in color with perhaps some dirt on the knots. Christie's obviously had it restrung. It's lovely.
Your clients will often bring you pearl necklaces for restringing. If you provide this service, be sure to count the pearls, even take a snap shot of the pearls as presented to you. I frequently had clients bring in Mikimoto pearls that were bought by U.S. servicemen during and after WWII for their wives and girlfriends.  The pearls may have been inherited or may have languished in a jewelry box for years.
Be sure to wash the pearls gently and let them totally dry before restringing.
I always enjoyed this, bringing a pearl necklace back to life by giving it the care it deserved.