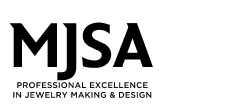 MSJA Journal is one of the major go-to journals for bench jewelers. A trade publication, MSJA consistently produces high quality articles on metal techniques and technologies, casting, design and bench work. The magazine also provides its readership with information on industry issues, social media usage and sales and marketing.
However, for me, its real strength lies in the comprehensive information it provides bench jewelers.
So, I was appalled when its February, 2014 edition carried a piece entitled "Basics of Jewelry Stringing" that focused ONLY upon using crimps in jewelry manufacturing.
Bear in mind that MSJA is dedicated to the accomplished bench jeweler. It's not a stringing or beading magazine for to the amateur or hobbyist. The jewelers who read MSJA design and create high end jewelry. This often involves creating clasps for necklaces and bracelets and pendants hung on gemstones.
I often encourage professional pearl and bead stringers to learn techniques outside the stringing niche in order to support their design vision. Kumihimo and specialty knots are examples of non-torch techniques that can be invaluable to learn. For some, metal smithing is an inevitable next step in education.
For all of us, thinking through the manufacturing challenges involved in making a piece of jewelry always includes pinpointing what we know and just as important what we don't know. This is true for professional pearl and bead stringers and for metal smiths.
If you make jewelry with gemstone beads, in all probability those gemstones should be knotted. Knots protect the gemstones from rubbing against each other and protect against loss. (That is, if the necklace breaks, the potential loss is only one bead.) When I ran the gallery, I would never, ever show a pendant, for example, hung on gemstones that were secured to the clasp with crimps. Discerning jewelry buyers would identify the issue immediately. More important, I would know I was not providing the buyer with the protection such a piece of jewelry deserves.
Stringing pearls and beads is a crucial skill in making jewelry. It's a niche, yes, just as stone setting or casting are niches. Like these and other niches, it takes knowledge, skill and practice to master it. If you don't have the skill or the patience to acquire it, then outsource it. Short-cuts, particularly with high-end, expensive jewelry are just unacceptable.
I was surprised and disappointed MJSA offered this substandard advice to readers. Consider this an open letter to the magazine.