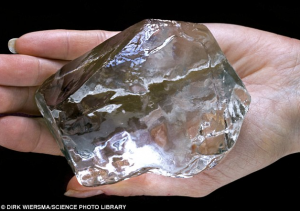 Public attention is beginning to focus on the Crown Jewels that will be displayed this summer at Buckingham Palace to mark the Queen's Diamond Jubilee.
Included in the exhibit will be seven of the nine principal stones cut from the Cullinan Diamond.
The Cullinan Diamond, of course, is one of the most famous diamonds in the world. Discovered in 1905 at a mine near Pretoria in South Africa, the 3,106 stone was so large that its finders thought it was worthless and tossed it out the window of the mine manager's office.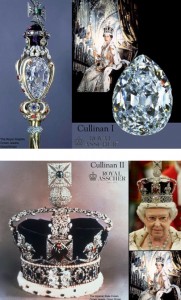 However, they soon came to their senses, recovered the stone and named it for the chairman of the mining company, Thomas Cullinan.
The stone was eventually presented by the Prime Minister of the Transvaal to King Edward VII in 1907.
However, because of its size, cutting the stone was a major issue. (In fact, this was the reason the stone remained unsold between its discovery and its presentation to the king: no one could figure out how to cut it.)
Enter the firm of I.J. Asscher. Founded in 1854, by 1908, the firm had already established itself as one of the premier diamond polishers in the world. It had designed the Asscher Cut, updated to the Royal Asscher cut a hundred years later. And in 1903, it cut the Excelsior, at that time the largest diamond ever found.
In 1908, the two sons of founder Joseph Isaac Asscher, were running the company. Abraham cleaved the Excelsior; and, it was decided that Joseph would cleave the Cullinan.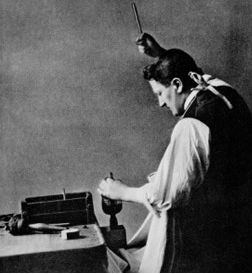 The Asscher brothers studied the diamond for three months to decide exactly where the diamond should be cleaved.
On February 10, 1908 a group of notables gathered to watch Joseph cleave the diamond. His first strike failed, his blade breaking against the stone which remained intact.
Joseph tried again in March, 1908, this time with only a notary present to record the event. Legend has it that when he struck the blow, he fainted. (This famous picture of Joseph cleaving the Cullinan was probably taken before his first try.)
In any event, he successfully cleaved the diamond.
Eventually, I.S. Asscher produced nine principle stones, 96 small brilliants and nine carats of unpolished fragments. The total carat weight of the gemstones was 1055.9 carats.
The largest stone, the Great Star of Africa, was set in the Sovereign's Sceptre; and, the second largest, the Second Star of Africa, was set in the imperial state crown. The summer exhibit will unite a total of seven of the nine Cullinans.
In World War II, the Nazis interned the Asscher family and nearly all the company's polishers in concentration camps. After the war, only 10 Asscher family members and fifteen of the 500 polishers remained alive.
The family was invited to start a new company in New York City, but they decided to rebuild in Amsterdam.
No related posts.