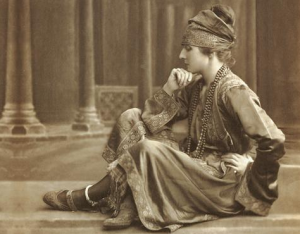 The Wall Street Journal recently ran an all-too-short article reminding us of the seminal influence on jewelry a few notable women have had.
In this case, the woman was Jeanne Toussaint who introduced the panther motif to Cartier, an icon now forever associated with her name and the name of the venerable jewelry house.
The panther-or cat-was first used in a Cartier design by Charles Jacqueau, principal designer, in 1915. At that time, Toussaint was working at Cartier — she had joined the company in 1910 — and she is often given credit for influencing that first design. It was of a watch face decorated in onyx and diamonds in the pattern of a jungle cat.
There is no question that Toussaint had an affinity for the panther. She was called "Panther" by her colleagues at Cartier, a reflection of the panther skin rugs decorating her apartment.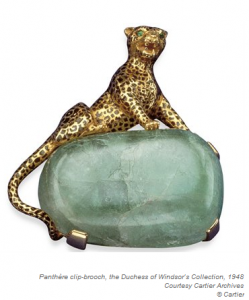 However, it wasn't until 1948 that the realistic panther, the icon we are familiar with, took shape. In that year, the Duke of Windsor commissioned Cartier to make a panther brooch for the Duchess. Working with designer Pierre Lemarchand, the first cat was a gold and black enamel panther lying on a 116.74-ct. cabochon emerald as a clip-brooch. This was followed by several others.
The panthers didn't go unnoticed. Princess Nina Aga Kahn had Cartier make panthers for her, while heiress Barbara Hutton commissioned a suite of tigers of yellow diamonds and black onyx.
Toussaint collaborated on many designs for Cartier with Lemarchand, but perhaps one of the most notable is the one which took the most courage. In 1940, Toussaint and Lemarchand created a  brooch of a bird imprisoned behind the golden bars of its golden cage.
The stones used in the brooch were symbolic of the French colors – white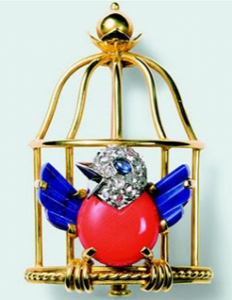 (diamonds), blue (lapis-lazuli) and red (coral) – while the 'caged bird' brooch was symbolic of the occupation of France. The brooch was prominently displayed in Cartier's windows and caused Toussaint to be summoned to the headquarters of the German Army in France and to be imprisoned for a few days. In 1944 she and Lemarchand created "L'Oiseau Libre" where the bars are opened and the bird is singing.
According to Pierre Rainero, Cartier's current director of image, style and heritage and as quoted in the Wall Street Journal article, "The animal (the panther) symbolizes freedom, a combination of elegant femininity and the wild and dangerous."
The Journal also notes that "The "personality of the cat has changed slightly throughout the decades. While the first felines of the 1950s were ferocious, with yellow eyes and sharp claws, by the 1960s they had a playful, cublike look. Recent designs once again resemble the fierce originals."