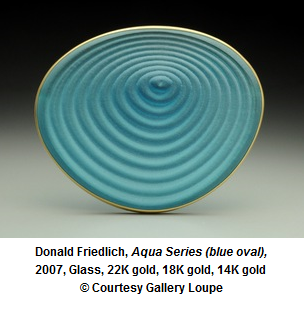 Bead and pearl stringing refers to the techniques we use to assemble jewelry. But good design is what transforms technique into art and this is true whatever medium you work in.
In the years I ran a craft gallery which specialized in studio jewelry, I was fascinated at how clients intuitively recognized good design, naturally gravitating toward pieces that were beautifully designed even if they couldn't precisely identify the appeal.
As pearl and bead stringers, our work goes beyond learning good technique. It means studying the work of other jewelers and artists — not to copy — but to learn good design. Why is a piece appealing? How are the elements arranged? How do line and space contribute to the piece? What statement do the colors make?
If you are anywhere near New Jersey this summer, try to drop into the Hunterdon Art Museum in Clinton to see "The Art of Adornment: Studio Jewelery." The museum has assembled the work of 13 studio jewelers "who create jewelry that is part of an ongoing trend to marry precious with non-precious materials. Merging the timeless with the fleeting, the precious with the ordinary, their work combines gems and metals with materials found in nature, the environment and industry," according to the press release.
If you can't visit the exhibit, you can still look at the work by visiting ArtSlant.com which features pictures of the work and links to the artists' websites. It's a feast. Really.