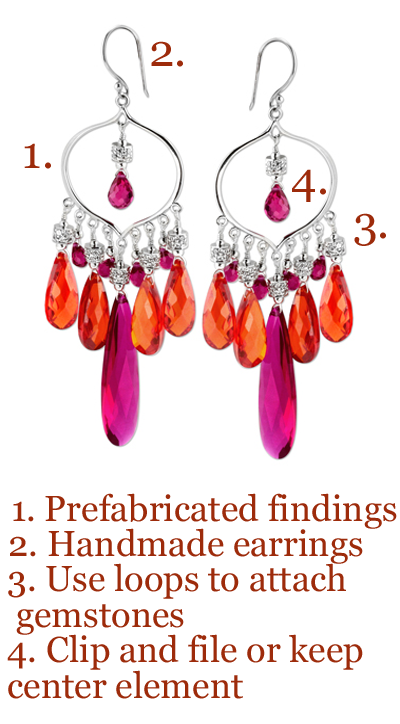 A few weeks ago, I released a new DVD demonstrating how to work with wire to make jewelry.
I want to emphasize that I am in no way changing my focus. Knowing how to work with wire is, I believe, an essential component of the repertoire of skills that a pearl and bead stringer should have. (And, frankly, learning how to work with wire is far easier than learning how to string beads. Stringing pearls and beads requires a somewhat steep learning curve AND significant practice before  proficiency can be achieved.)
But why is understanding wire important? Knowing how to work with wire enables you to manufacture earrings that can complement your designs. Clients often demand the complementary jewelry. It also enables you to expand your DESIGN capabilities by knowing how to incorporate wire and chain into earrings, necklaces and bracelets.
This morning I came across some images from JCK of new earring designs that will be featured in an upcoming jewelry show. (Although the editor called the designs "new," they are not. The materials used in the earrings are unusual enough to give the pieces a "new" look.)
These pieces are manufactured by using soldering techniques, among others. However, I wanted to point how how you can manufacture similar pieces by using wire.
In the first set of earrings, pictured opposite, chandelier earrings are used. These have been popular for some time now and chandelier findings are readily available from almost any jewelry supply company. So, without soldering skills, you'd begin with the prefabricated chandelier findings.
One of the first things you will learn how to manufacture if you decide to learn about wire, is earring findings. So, if you wanted to make a pair of earrings similar to the one pictured, you could make your own or buy prefabricated ear wires.
The manufacturer used baguette gemstones with what appears to be diamond and white gold findings in this design. And, he or she attached the baguettes and the findings to the chandeliers with a very thin wire. Learning how to make loops to attach baguettes to jump rings is a specific technique and is taught in the DVD.
Finally, the designer used a finishing element in the center of the chandelier. You may or may not want to keep it. If you do want to keep it, just use wire to attach the baguette. And, although in #4 on the graphic I wrote to clip and file, only do this if for some reason you don't want to keep the soldered jump ring in the center of the chandelier. Otherwise, just leave it alone.
This did not start out to be an advertisement for the Working with Wire DVD, but rather a demonstration of how wire techniques can be used effectively to manufacture a variety of jewelry. But, I found it hard to explain specific wire technique without reference to the DVD and I apologize if it's annoying. Just take away from this what you will.
In the next post I'll go over another pair of earrings and demonstrate how wire can be used to recreate a similar earring without the need for soldering. Finally, I want to again emphasize that the design of these earrings ARE NOT unique. We are not taking intellectual property. These designs have been around for hundreds, even thousands of years.