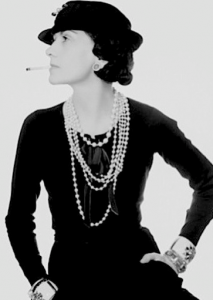 One of the most important jewelry designers of the 20th century was Italian born Fulco di Verdura or more accurately, Fulco Santostefano della Cerda, Duke of Verdura.
Verdura was born in 1896 to Sicilian aristocracy in Palermo, Italy and according to the Verdura website was a pampered child. Despite the pampering, in one of the pivotal moments that are of such interest when we look back at the development of men and women of great achievement, as a child Verdura discovered a book on Raphael in the family library. This led to a life-long love of art, especially the art of the Renaissance.
Despite his (by all accounts) lavish upbringing, by 1923 when he gained the title of Duke from his father, his resources were limited and it was necessary for him to look for a job. However, before that necessity became clear, he had already met the couple who would introduce him to his most important contact.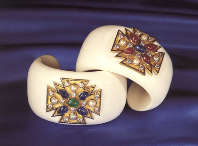 Linda and Cole Porter (of songwriting fame) met Verdura in Palermo in 1919 and became early supporters and eventual backers. In 1925, Linda introduced him to Coco Chanel who invited Verdura to join her in Paris as a "textile designer." At the time Verdura went to work for Chanel, it was a time of her greatest fame and influence.
Despite being hired as a textile designers, it became clear very quickly that his true talent lay in jewelry design.
His first line included Byzantine influenced pieces that featured over-sized crosses, including the famous Maltese cross cuff bracelets that Chanel wore constantly. (Some accounts suggest that he designed the Maltese bracelets after emigrating to America. However, the Verdura website, without naming dates, implies that the cuffs were created during his association with Chanel in the early years in Paris. It probably doesn't matter much except insofar as I dislike passing on inaccurate information.)
In Paris, Verdura became part of the swirl of artistic ferment during those years. Friends and acquaintances included Picasso, Hemingway, and Diaghilev. He also wholeheartedly participated in the social swirl and numbered the Rothschilds, Daisy Fellowes, Josephine Baker and of course the Porters among his friends.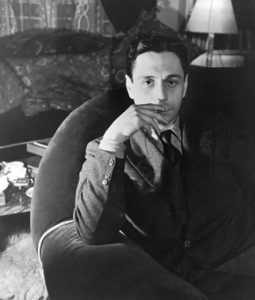 Restless in Europe, Verdura sailed to America in 1934. There, he was introduced to jewelry designer Paul Flato (among others). After a time free lancing design for Flato, Verdura became part of Flato's permanent staff in California.
Finally, he opened his own store in New York in 1939 just as war was declared in Europe. Nevertheless, he was sufficiently well known and connected that the store did well and his designs became very successful.
Although the Verdura "brand" was never as well known as Tiffiany's or Cartier, Verdura patrons included a who's who of the New York social scene and Hollywood celebrities of the time. Katherine Hepburn wore Verdura jewelry in "The Philadelphia Story." Joan Crawford and Marlene Dietrich were enthusiastic devotees. On the East Coast, Babe Paley, wife of William S. Paley, founder of CBS, was a close friend and confident.
Verdura is especially well known for:
His association with Coco Chanel and his creation of the Maltese Cross cuff bracelets. You see echoes of these designs today.
His use of a variety of different gemstones in his jewelry which he set in gold and platinum. Verdura was not wedded to the "big three" (diamond, ruby and sapphire) and in fact made something of a point of generally avoiding them, although he did use them.
His use of gold twisted into ropes which he first began designing in the 1930s.
And, his use of actual shells which he encrusted with gold and gemstones. His shell jewelry is perhaps his best known work.
There is more, of course. The career and contributions of such an important designer can't be covered in an article like this.
So why is it important for pearl and bead stringers to have a nodding acquaintance with the great designers? We're often asked about designers by clients. Although I do not follow the latest trendy work–or at least don't make a point of doing so–great work in our business is great work. We need to know about it. In addition, it's important to understand that his work, although less well known at the time than other major players in the jewelry industry, has influenced our use of gemstones and other material in jewelry and our perceptions of good design.