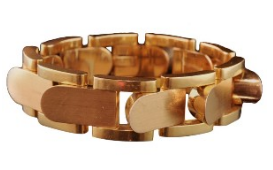 The consequences of record high prices for gold go beyond the diminishing ability of pearl and bead stringers to use gold in their work. As of this writing, gold is north of $1,600 per ounce and at least one expert is predicting gold will reach $1,900 an ounce this fall.
News reports from Australia this morning are telling us that one of the fastest growing businesses in Australia is the retail chain Gold Buyers which was founded in 2009 and now has 14 stores. Its business: buying scrap gold and reselling it to gold refiners.
And business is booming. According to WA News, an Australian newspaper, "unprecedented" amounts of jewelry, including antique jewelry are being sold for scrap.
The problem is that industry observers say that vintage jewelry and family heirlooms are among the jewelry being sold for scrap. That's because their owners can get more money and sooner for the metal weight of the jewelry than for its cultural significance.
For those of us who love jewelry and believe it reflects cultural and historical mores, this is disquieting. And, although I haven't yet seen similar reports here, I suspect much American jewelry is also going into the recycling heap.
No one can fault people for selling assets during a period of such economic hardship. This is just another painful consequence of the depression.