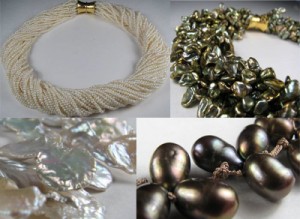 The CIBJO conference, coming up later this month, is anticipated to address the weighty and controversial issue of pearl nomenclature.
Who is the CIBJO?  Pearls? Controversial? And, why does it matter to pearl and bead stringers what they say about pearls?
It matters. Believe me. Standards on nomenclature affect the way we grade and value pearls and they affect the way consumers perceive them.
It's important for anyone who has even a passing interest in making pearl jewelry to know about the CIBJO and what they decide about this issue.
The CIBJO is The World Jewellery Confederation. It is a confederation of national and international jewelry trade organizations. It describes its mission as "to encourage harmonization, promote international cooperation in the jewellery industry, and to consider issues which concern the trade worldwide. Foremost among these is to protect consumer confidence in the industry."
To promote this harmony and cooperation, the CIPJO developed a series of "Blue Books." The Blue Books provide a definitive set of standards for the grading and nomenclature of diamonds, colored stones, pearls, precious metals and more recently for gemological terminology. The Blue Books are compiled by committees consisting of representatives from trade and educational organizations and gem laboratories from around the world.
Blue Book standards also apply to advertising, marketing, labeling, sales and promotions. Here in the United States, the FTC which regulates advertising claims, is acutely aware of CIPJO activities and takes them into account when setting its own standards.
So why is the pearl industry watching this May 17 conference so closely?
The CIBJO will decide upon what the word "pearl" actually means.
Think you know? Think again.
The traditional CIBJO position has been that if the unqualified word "pearl" is used then the item being described can only be a natural pearl.
Advocates of change insist that the meaning of the word "pearl" has changed to have a generic meaning, that is, the term is perceived by the consuming public to include any type of pearl, including faux pearls.  They say that the CIBJO rule should be changed to reflect origin, that is, that a pearl should be clearly identified as a natural pearl, cultured pearl or imitation pearl.
The objective is to arrive at clear and unambiguous terminology when using the word pearl.
These industry debates may seem arcane, but they do have real meaning and serious implications for the way makers of jewelry describe and market their goods.