Special Knots & Materials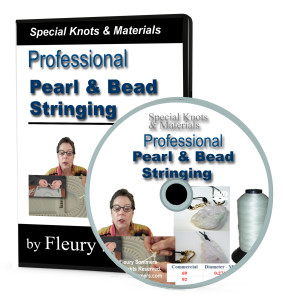 Pearl and bead stringer are often called upon to use specialty knots in their own work and in work for clients. Special Knots and Materials demonstrates three commonly used specialty knots, the Lark's Head, clinch knot, and grinner knot for use with pendants and necklace clasps.
The specialty materials covers the use of materials that will add unparalleled durability to your work. Included are specifications so new users can be comfortable with buying and using the materials.
This is highly valuable information for the professional pearl and bead stringer and the result of years of our own experimentation.
The disc ships with the Professional Pearl and Bead Stringing DVD as a bonus.  It is also available as a stand alone for $12.99 plus $2.74 shipping.
NOTE: Buyers of the "Professional Pearl and Bead Stringing" DVD, do NOT click the buy button below. The disc ships as a bonus automatically when you buy our best selling DVD.
If you wish to purchase as a stand-alone, click the buy button below.