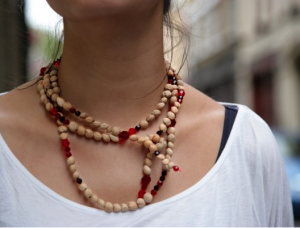 Design shows are wonderful sources of inspiration for anyone creating art, including jewelry. They feature established artists exploring new mediums, emerging artists, and, of course, new and unusual designs.
Design shows should not, however, be viewed uncritically. Here is one of the major conundrums I've noticed in a number of the many, many design shows I've attended over the years.
Design vs Materials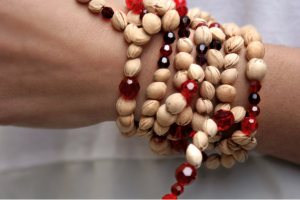 Very frequently artists–and the judges who curate design shows–confuse new materials with new or even good design. Often the fact that the artist is using a new material is enough to jury him or her into a show when the design is execrable.
The design in the pictures to the left are an example. And, let me say immediately that the design of this jewelry is not execrable.But neither is it new.
The jewelry is from Tord Brontje, a Dutch-born, London based industrial designer who is quoted as being drawn to "the real, the raw, and the unfinished." He designed a line of jewelry using cherry pits and Swarovski crystals, a line that has been highlighted from the London Design Show.
Cherry pits, of course, aren't often used in jewelry and obviously caught the eyes of the show organizers. But, at least to my eye, the design of the jewelry isn't new.
So, is it enough to just highlight new materials in these types of shows? Maybe. Especially if the new material is, as in this example, the design.
My point is that it's vital for jewelry designers, including pearl and bead stringers, to view these shows critically. Often our reaction to a design is intuitive, that is, we like a piece or we don't like it. Try to take the time to articulate (even if just to yourself) why you like it or not. Better yet, take a friend to design shows and discuss the work. It will greatly assist you in developing your own design vocabulary.
That's fine.