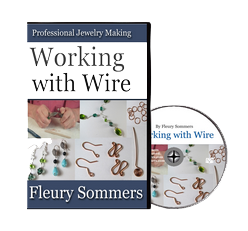 Learning to use wire in your work extends your skills to the point that your next step on the jewelry manufacturing learning curve is using a torch to solder jewelry. In addition to producing wire jewelry, these techniques can be combined with pearl and bead stringing techniques to vastly expand designs and design choices.
Working with wire is not hard, but there is a learning curve. In addition, it is critical to master key concepts and techniques including gauges, gauge size, the various metal hardnesses and finishing techniques.
In "Working with Wire," you'll make a necklace and two pairs of earrings. In addition, demonstrations include manufacturing ear wires and clasps, the various ways of making jump rings, and manipulating wire to achieve greatest durability. $12.99 plus $2.74 shipping.