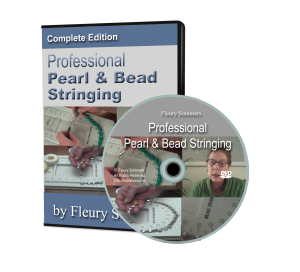 The "Professional Pearl and Bead Stringing" DVD, now compressed into one affordable disc, provides the beginner with everything he or she needs to know to string pearls and beads professionally.
In the three projects, users will find complete step-by-step demonstrations of professional pearl and bead stringing skills from the easiest to the more complex. In addition, Professional Pearl and Bead Stringing provides comprehensive information enabling users to immediately understand and use appropriate tools, materials and trade terminology. The materials in this disc are foundational for mastering the skills in this niche.
Nineteen short chapters are organized by project so users can easily reference the materials.
Here is a review of the three Projects:
Project One: Working with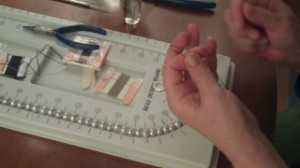 crimps and beading wire. Making necklaces with crimps and beading wire is the easiest skill to master. This project takes you through using crimps, teaches you how to measure the necklace and how to use jump rings. A discussion at the conclusion provides advice on when and when not to use crimps.
Project Two: "Tin cup" or "floating necklaces" are among the most popular styles on the market today. In this project, you are introduced to working with bead tips to attach a necklace to a clasp. In addition, the user learns to tie knots. This is among the most important skills in the professional manufacture of jewelry and you are taken through it step-by-step. Also included is a discussion and demonstration of how to use round nose pliers and determine appropriate sized thread.

Project Three:

In Project Three, the user makes a classic necklace by attaching the clasp to the necklace with a needle and thread and knotting between beads. The user is also taught how to tie temporary knots. In addition, we provide advice on choosing thread and handling unevenly drilled pearls.
Chapters:

Introduction
Findings
Necklace Lengths
Project One – Tools and Materials
Project One – Manufacturing
Crimp Tool
Project Two – Tools and Materials
More on Knotting
First Bead Tip
First Knots
Knotting – Common Mistakes
Finish/Second Bead Tip
Project Three – Tools and Materials
Selecting and Measuring Thread
The Temporary Knot
Attaching the Clasp – Part One
Attaching the Clasp – Part Two
Quality Indicators
Resources
Using Professional Pearl & Bead Stringing
We make it easy for you to acquire the tools and materials used in Professional Pearl & Bead Stringing. All the recommended materials are inexpensive and readily available.
In the disc case, you will find an inside the over. Just open the disc and extract the insert which provides a complete list of materials you'll need to get started. All supplies can be picked up at any jewelry supply company. If you're not sure about supply companies in your area, google "jewelry supply company" plus your location. Then check to see if the company is wholesale or retail.  If the company is wholesale, you might need trade credentials.
At the end of the disc, we recommend several companies who have a solid on-line presence and with whom we're done business over the years. (We are not in any way affiliated with these companies.)
If you need a better idea of what these tools are, play the "Project" chapters in both discs. The tools and supplies are completely explained.
The best advice, however, is to visit a jewelry supply company. Most are staffed with knowledgeable professionals who should instantly understand your needs and answer any questions you might have.
Please e-mail me at fleury@fsommers.com if you have any issues about obtaining these supplies.
The Complete Edition of the "Professional Pearl and Bead Stringing" course is $19.99 plus $2.74 shipping. It also ships with the "Special Knots and Materials" DVD as a bonus.
Use the "Buy Now" button to order the discs using Paypal or your credit card.