The Pearl & Bead Stringing Supply Kit contains all the tools, gemstones, findings and supplies you need to complete the three projects demonstrated in the DVD. Simply follow along with the DVD to complete the necklaces.  Here is a break down of what the kit contains and how the completed necklaces will look.*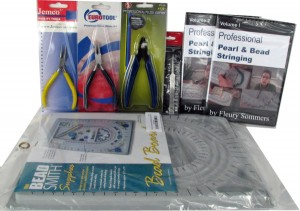 Tools – The Supply kit contains (from left to right):
Chain nose pliers
Round nose pliers
Flush cutters
Beading tweezers
The new Professional Pearl & Bead Stringing Course
Advanced Pearl and Bead Stringing DVD (not pictured)
Special Knots and Materials DVD Bonus (not pictured)
Grey Flock 9″ x 12″ beading board
Important: The kit does not contain clear nail polish which you will need to help secure knots.
Pearls and Gemstones
The kit contains the gemstones and pearls needed to complete the three projects demonstrated in the DVD. (Please note that the gemstones contained in the supply kit are not the same as those used in the tutorials. DVD demonstrations are to teach technique only, not design.) Please note that in every package, we provide additional supplies so that if you make a mistake you can begin over, for example, in project one, we provide extra tiger tail and crimps, in project two, we provide extra bead tips and in project three, we provide extra beading needles and string.
Here are the necklaces:
Project One: Matte Onyx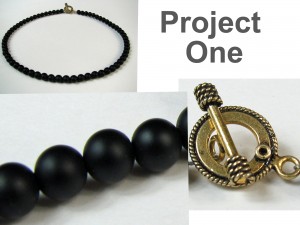 Project One – Onyx is perfect for learning how to use crimps and tiger tail. Like the matte onyx pictured here, their drill holes are often quite large and unsuitable for knotting between the beads.
This is matte onyx opposed to the shiny black onyx you most often see. The finish is obtained by removing the gemstones from the tumbler before the shine appears. (Jewelry tumblers are used to polish gemstones and metals. Shiny finishes are sometimes called "tumbler finishes.") I like the matte finishes. I think they're sophisticated and understated. The 16″ strand comes with the toggle clasp pictured. Project contents are:
16″ Strand of 6 mm matte finish black onyx (pictured).
Toggle clasp (pictured)
Four crimps. (Not pictured. You will need two crimps.)
Tiger Tail. (Not pictured. Two lengths supplied.)
Finished length of the necklace is approximately 17″.
Project Two: Illusion Necklace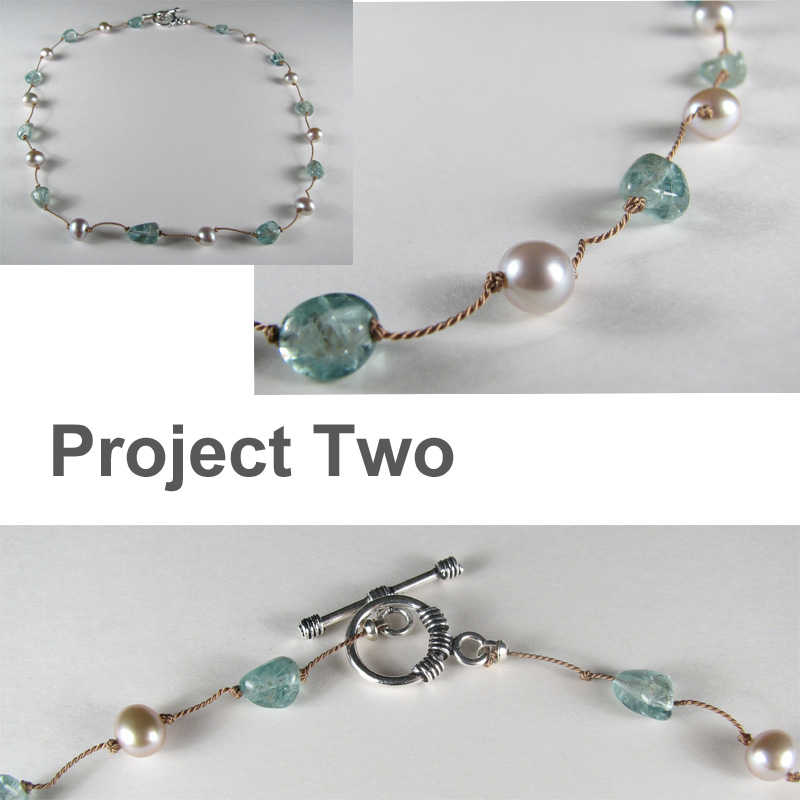 Project Two – Project two uses champagne colored pearls and apatite to make an illusion or "floating" necklace. In this project you learn how to tie knots and attach a necklace to a clasp using bead tips. Learning how to tie knots is a critical stepping stone in developing professional pearl and bead stringing skills.
Project contents are:
Champagne Pearls and Apatite – enough for an 18 – 20 inch necklace. (Measurement is approximate as apatite beads are irregular. In addition, you may choose to leave more or less space between beads than the recommended 1/2 inch.)
Toggle Clasp
Griffin beading cord – Beading cord with attached needle. (Not pictured, although you can see cord between the beads.) Beading cord is long enough to use twice, so you have the ability to make-over should you desire.
Bead tips – In project two, bead tips are used to attach necklace to clasp. (Not pictured, although you can see them in the picture of the clasp). Two are needed to complete project. Four are supplied.
Project Three – Knotting and Attaching the Necklace to the Clasp with Thread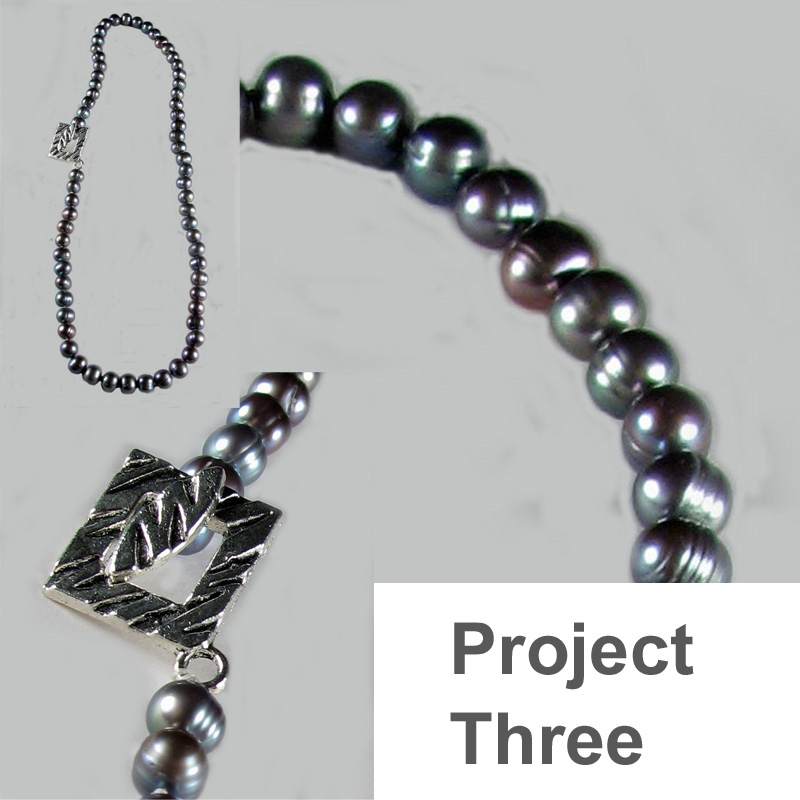 Project Three – In Project Three you make a classic pearl necklace, knotting between beads and using thread to attach the necklace to the clasp. Project contents include:
Pearls – 16″ strand of black circle pearls. (Pictured)
Toggle Clasp  (Pictured)
Beading thread – Tuff cord beading thread. (Not pictured.) Extra beading thread is provided for do-overs.
Beading Needles -#7 beading needles. (Not pictured) Three are provided.
The finished necklace should measure just over 18″. The clasps and knots between the pearls add the additional length.
*We make every effort to provide the findings and gemstones shown in the pictures. However, suppliers stop making various clasps and gemstones aren't fungible. Therefore, there may be very slight differences in the materials you receive.
Free Tote Bag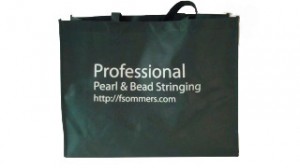 A free tote bag is included with each supply kit. Although eventually you will organize tools and supplies more formally, the tote bag is a convenience while you master the skills taught in the DVDs.
The capacious bag can easily store all your tools, including the beading board.
Price for Professional Pearl & Bead Stringing Supply Kit is $99.99 plus $12.65 shipping.