Shipping Policies
All orders are shipped from Houston within two business days and orders frequently ship the same day depending upon the time they are received. If there is a delay – which happens very infrequently – you are notified immediately.
We charge a minimal shipping fee to cover the cost and nothing more. For us, shipping is not a profit center, however, we do have to include this small charge.
If you live abroad and wish to order the DVDs – and we have had many clients from all over the world – please contact us before you order for a shipping estimate. Use the contact form on the website or email us at fleury@fsommers.com

We process orders through Paypal. Paypal is familiar to millions and its reputation for secure on-line transactions is without peer. Although many people already have Paypal accounts, you don't need a Paypal account for a transaction. Paypal accepts all major credit cards regardless of whether the buyer has an account. Most important, Paypal's secure encryption technology ensures peace of mind for a secure and private on-line transaction.
Site Security
https://fsommers.com has its own SSL or Secure Sockets Layer. This encryption technology provides an addition layer of security for credit card transactions and is used by all major on-line retailers.
Product Handling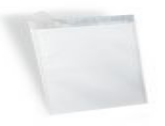 We ship the DVDs using an X-Pak Bubble Lined Envelope. This specially made envelope by a Houston manufacturer ensures that the DVDs are not damaged in the mail.
We ship the Supply Kit via Priority Mail and use the USPS Flat Rate Box for
shipment. The Supply Kit is insured and uses the USPS Delivery Confirmation Service.
If you would prefer a different delivery method, please e-mail us and we'll be happy to change shipping methods, however, standard rates will apply.
Customers can expect delivery within 3-8 business days pending credit card approval.
Returns — We cannot accept returns if the product packaging has been opened, that is, if the tools packaging has been opened. However, if for any reason, you change your mind, just return the product to us and we'll gladly refund your purchase. Also, if the DVDs are defective (and they have been carefully checked by the manufacturer), please return them and we'll ship a new set to you at no charge.
Please click here for a description of my approach to customer service. It was written in response to a personal internet shopping experience.
 

Thank you for visiting.