JCK, (Jewelers Circular Keystone) an industry publication that has been around for more than a century, posted a terrific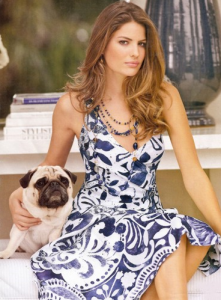 article today reminding us that many of our clients see jewelry as accessories. For those clients, it's important to be aware of fashion trends.
JCK noticed that this is "a deep blue season" and it pulled articles and images from InStyle magazine, Marie Claire, Harper's Bazaar and Lucky to illustrate that "blue is very much on fashion's radar screen."
For jewelry designers, this means taking a look at some old favorites, lapis lazuli and blue sapphires, for example, and taking a look at some not so familiar gemstones.
Chalcedony, a variety of quartz, has become very popular in recent years. It is available in a variety of colors, including blue, and although frequently cut as a cabochon, it is also available in beads. Avoid the lower quality chalcedony in which you will see grey.
Iolite, sometimes called "water sapphire," a misnomer, is an often overlooked gemstone. It is available in beads in a variety of shapes, including faceted teardrops. Iolite has what is called pleochroism which means that it shows different colors in different directions in the crystal. Badly cut iolite will not show its deep purplish blue well, perhaps a reason why it is often overlooked by designers.
Aquamarine, a beryl, belongs to the same family as emeralds. It is available in a range of usually light blue colors and is surprisingly affordable.
As jewelry designers we often think of jewelry as an end in itself. However, as JCK rightly suggests many women consider it an accessory. While I don't by any means suggest following fashion trends slavishly, it's wise to be aware of them and this may be a good time to incorporate some of the lesser known, but gorgeous, materials into your designs.