As professional bead stringers, we are often asked about specific designers and trends in design. While it's impossible–at least for me–to know the work of every prominent designer, we do have the obligation to be alert to designers whose work may portend changing trends.
I think such a designer is Chi Galatea Huynh, owner of a California company who is getting significant trade buzz for his line of carved pearls.
Using the surface of pearls for decorative reasons isn't new. Faceted pearls have been on the market for a number of years, although I don't think they've done especially well. Buddhas have been carved on freshwater mabes for hundreds of years.
The problem for would-be pearl carvers is nacre depth. Nacre is the thin outer layer of a pearl which gives pearls luster and color. Nacre is what makes a pearl a pearl and nacre thickness is one of the quality factors gemologists look at when evaluating a pearl.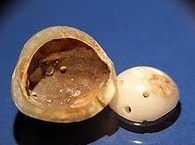 The problem for carvers is that even thick nacre cover is thin. We consider "very thin" nacre coverage to be 0.3 mm, while "very thick" nacre coverage is 0.6 mm. That's a difference of 0.3 mm. And when a carver reaches that depth, the conchiolin layers are very unattractive, as illustrated by this picture of the interior of a South Seas pearl.
To avoid this issue, Galatea operates his own pearl farm and inserts a gemstone as the nucleating bead. So, when the pearl is carved, the gemstone shows through the carving. According to his website, Galatea hold the patent for the world's only gemstone-nucleated pearl.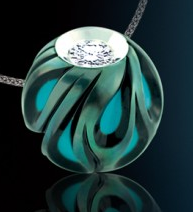 Here is a picture from his website, www.galateausa.com, of a diamond in a pearl. The website suggests the blue interior is a topaz.
Over the last few years, Galatea has received a number of accolades from the trade press. Most recently, the Cultured Pearl Association, www.cpaa.org, wrote up his new work shown at the recent JCK show in Las Vegas, carved pearls presented as beads rather than one-of-a-kind gemstones.
Success also spawns imitators and this is true, may be especially true, in the gem trade. We'll see.
In the meantime, visit Galatea's website and take a look at his work. Also, take a look at the video posted on the home page. It describes the Galatea nucleating process and is a fascinating behind the scenes look at a rising star.