This article appeared in the July edition of the Professional Pearl and Bead Stringing Newsletter. To receive other tips like this, click on the tab "Newsletter" and enter your e-mail address. It's absolutely free.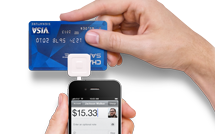 Many of us show our work at craft fairs, home shows and the like where taking credit cards is sometimes the only way to make a sale.
If you do show your work in these venues, it might be time to consider taking credit cards over your mobile phone using what's called a mobile device payment system.
These are typically one-inch cards that plug into the audio jack of smart phones allowing you to accept credit and debit card payments on the spot.
For small businesses a mobile device payment system offers a number of advantages over traditional merchant accounts. You don't have to buy the bulky card reading equipment, commit to a lengthy contract or a minimum monthly transaction fee even if you have had no sales at all. Anyone who has been in retail knows the iron grip of merchant accounts. By lowering the barrier to entry, mobile device payment systems allows anyone to set-up and be in business quickly.
Square, Inc., available at www.squareup.com, is currently one of the hottest mobile device payment systems. The company allows sellers to set up a free account in minutes with no credit check. The transition fee is 2.75% and it imposes none of the credit-test burdens associated with traditional terminal-based merchant accounts. Also, the company doesn't care if you only use the service only a couple of times a year.
Square is two-years old. The company has shipped 500,000 free readers and processes $4 million in transactions every day. It anticipates processing more than a billion in payments within a year.
Interestingly, Square's co-founder and Chief Executive Officer is Jack Dorsey who also co-founded Twitter.
Square, Inc. isn't the only company offering mobile device payment systems.  Intuit offers one. Paypal which most of us for on-line credit transactions is planning to release one as is Google.
The best thing about mobile payment systems are that they are easy to understand and use. No complicated technology. No head spinning terminology. Just a convenient, easy service with the emphasis on service for small business.
P.S. I am not associate with Square in any way.