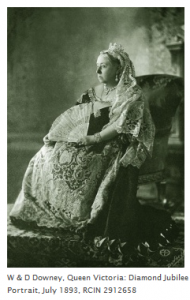 Among other things, many of us remember Queen Victoria, the British monarch for more than half of the 19th century, for her extravagant, decades-long mourning of her consort, Prince Albert of Saxe-Coburg and Gotha.
She married Albert, her first cousin, in 1840 and when he died in 1861 after twenty-one years of marriage, she wore mourning clothes for 40 years or for the remainder of her long life.
One consequence of the extended mourning period was an unprecedented demand for jet jewelry from both the British aristocracy and the middle classes to commemorate bereavement. Remember, at this period, it was de rigueur for anyone who could to emulate the monarchy.
Briefly, jet is a type of brown coal that has been used since the Stone Age for personal ornamentation. It is a fossilized wood of a Jurassic period tree that, after millions of years, has been transformed into the gem we know as jet, a rich black gemstone. The jet worn by the Victorians was mined in the area around the fishing port of Whitby in North Yorkshire.
By 1870 Queen Victoria had been in virtual seclusion for almost ten years and it was long past time for her to resume her public duties.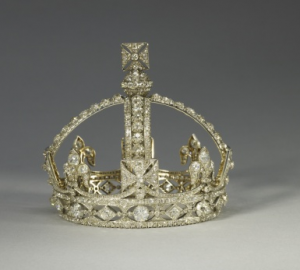 However, her decision to wear only mourning clothes meant that she could not wear her colored stone jewelry. And, jet would not do exclusively for a monarch who had to preside over formal occasions. She could, however, wear diamonds which were compatible with mourning clothes and also satisfied the need for a head ornament.
Enter R.S. Garrard & Co. which had been appointed to the position of Crown Jewellers by Queen Victoria in 1843. This distinguished firm was founded by George Wickes in 1722 and survives today as Gerrard & Co. (Among other famous jewelry, the company created the Imperial Crown of India in 1911, the crown for Queen Mary for her coronation and the crown of Queen Elizabeth in 1937. More recently, it created the well-known sapphire ring that belonged to Princess Diana and which was later given to Catherine by Prince William.)
To satisfy the need for a formal headpiece that would be in keeping with Queen Victoria's self-imposed mourning attire, R.S. Garrard created the diminutive crown we often see in portraits of the monarch, including her official portrait (opposite, above) released to mark her Diamond Jubilee in 1897. As shown, she often wore the crown over a veil of Honiton lace.
The crown itself measures only 10 centimeters (3.9 inches) and consists of 1,187 brilliant, rose and mixed-cut diamonds and some diamond chips. It's a silver openwork frame, laminated with gold. Queen Victoria wore the crown for the first time in 1871 for the opening of Parliament. In 1937, it was added to the display of regalia at the Tower of London.
The small crown is a part of the Buckingham Palace display marking the Queen Elizabeth II's Diamond Jubilee. She is the great-great-grand daughter of Queen Victoria.