Here are a couple of pieces of jewelry trivia I came across this morning.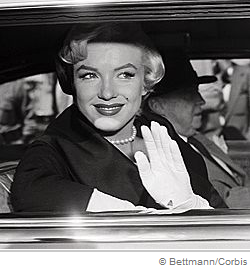 Marilyn's Mikimoto Pearls: According to Meyer Hoffman, chief operating officer of Mikimoto America, Marilyn Monroe actually owned very few pieces of "real jewelry." One such piece was a strand of Mikimoto pearls given to her by ballplayer Joe DiMaggio during their 20 day Japanese honeymoon in 1954.
In this picture, she is wearing the 16 inch strand of 44 akoya pearls…at the Santa Monica courthouse where she divorced the famous Yankee baseball player nine months later.
Marilyn, years later, gave the necklace to her drama coach Paula Strasberg. After her death, Strasberg gave them to her daughter Susan, who gifted them back to Mikimoto in 1998.
DiMaggio was Marilyn's second husband. The first was James Dougherty and the third was to writer Arthur Miller. She famously had an affair with President John F. Kennedy and died in 1962 under circumstances that are controversial to this day.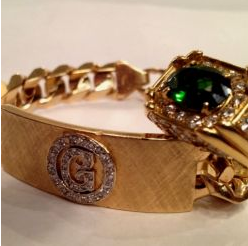 Elvis Jewelry to be Sold:  The King of Rock and Roll loved jewelry. He loved to acquire it, wear it and give it away. These two pieces recently surfaced and will be sold by Atlanta jeweler Jonathan Shapero.
The first piece, a 4.5 ct tourmaline ring, is owned by Lamar Fike, a friend of Elvis. The superstar asked Fike to hold the ring for him during one of his shows and then gave him the ring.
The second piece, a gold bracelet, was given to Elvis to commemorate his Circle G ranch. The Circle G (named for Graceland, his Memphis home) was 163-acre cattle ranch just across the Tennessee state line in Mississippi which Elvis bought to house his burgeoning collection of horses in 1967. He sold the ranch in 1970.