A recent catalog from Gump's, the wonderful San Francisco store, illustrated some of the new jewelry the store is offering. In looking at the images, I realized they're a marvelous example of just how versatile pearl and bead stringing can be AND they offer a couple of materials and design tips I thought I'd pass on.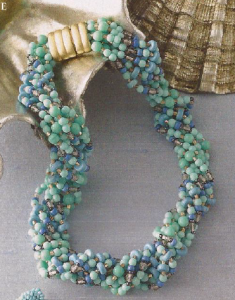 The first illustration (opposite) is a torsade in turquoise colors. The beads are Murano glass and Gump's described the clasp as a "matte gold-tone" barrel clasp. (Read gold plated.) This is obviously a very inexpensive necklace to create, although torsades do involve some labor. (I teach torsade manufacture in the Advanced Pearl and Bead Stringing DVD.)
It's not clear from the illustration whether Gump's has used crimps or thread to create the necklace. If the beads are strung on thread, I'd recommend knotting every few beads rather than attempting to place a knot at every bead.
What gives this necklace it's punch is the combination of colors. The designer has stayed within a rage of blue and turquoise with the same color values, that is the same relative lightness.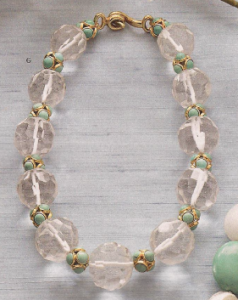 This next necklace is a simple stringing or crimping job. and uses only three elements, rock crystal, turquoise and a hook and eye clasp. The mounted turquoise are used as separators between the larger crystals and while it's not clear what the metal is, the design of the separators provides a nice contrast to the translucent crystals.
Notice, please, how the designer ended the necklace on both ends with the smaller separator. This is much better design than using a crystal AND it makes it easier for the wearer to put on her necklace. (Designers sometimes overlook the necessity of manufacturing jewelry that's easy to put on and take off.)
This is a great example of how simple design techniques can be used to manufacture really good looking jewelry.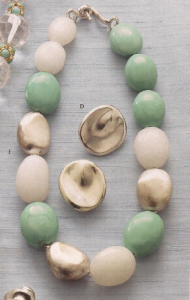 The design of the third necklace uses that staple of good jewelry design which is to use different materials in the same piece. In this case, the designer has used what appears to be silver that is somewhat differently shaped than the glass beads. (Notice that the silver beads appear to be flattened on one side.)  In addition, the silver has a light matte finish which contrasts well with the smooth finish of the beads.
Notice, too, that the beads are differently shaped (longer and shorter ovals) and graduated, adding to its eye appeal. The designer has also placed the turquoise and white beads (they're glass, not howlite as I originally thought) at seemingly random intervals in the necklace.
While the necklace ends with fairly large beads, the designer has compensated by using a long hook and eye clasp enabling the wearer to put on and take off the necklace easily.
These three pieces of jewelry illustrate how a terrific aesthetic combined with solid technique can produce beautiful handmade  jewelry.