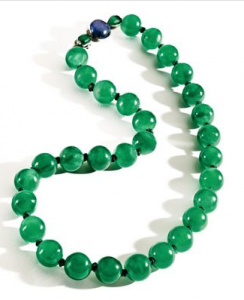 The editor-in-chief of InColor magazine, Jean Claude Michelou, recently wrote a column about the usage of the terms "precious" and "semi-precious" in describing gemstones.
Although for years gemologists have been taught to avoid using the terms, the issue has resurfaced because high-end brands are increasingly incorporating colored stones outside the "Big Four" in their collections. (The Big Four are rubies, sapphires, emeralds and diamonds, often referred to as "precious.")
Michelou points out that every professional organization within the trade, including the AGTA, ICA, CIA and CIBJO, regard the term "semi-precious stones" as misleading and incorrect. In fact, the American Gem Trade Association includes the strong recommendation to avoid using the term within its Code of Ethics.
Why? And, why is this important to pearl and bead stringers?
Gemstone beads are often produced from rough that is not high enough quality for polishing into stones. So, pearl and bead stringers often work with big four beads and other beads created from colored stones. In addition, we're also often asked to consult with clients on various gemstones,so it's important that we describe them accurately. That means avoiding misleading terms.
So why do we avoid the terms "precious" and "semi-precious?"
All natural stones that can be polished and used in the production of jewelry are rare by definition.
Only an extremely small part of a mine run can be polished and used in jewelry, further establishing the rarity of gemstones.
Some gemstones, such as tsavorite, a garnet, are far rarer than any of the Big Four.
Gemstone quality is also an important factor. Diamond bort, for example, used for industrial applications, cannot be considered as "precious" as a Paraiba tourmaline.
If we relied upon the terms semi-precious and precious, the Imperial Jadeite necklace pictured above that was sold by Sotheby's would be regarded as "semi-precious." That, clearly, is a misleading description.
So, don't use precious and semi-precious in describing gemstones. Use the term "gemstone."