One of the more charming ways people pay homage to others is in the clothes and accessories they wear.
This can be a helpful thought to bear in mind for a couple of reasons. When I ran the gallery I was sometimes asked by clients what accessories (jewelry) they should wear to important occasions. (These were usually very young women and somewhat insecure. Nevertheless the question was real and important to them.) Second, as a jewelry maker you probably own more jewelry than most people, so you can apply this advice to yourself, if you wish.
Princess Diana was famous for wearing clothes to please her hosts, particularly when she was overseas. As an example, she introduced herself to the Japanese by wearing a white dress with large red dots during her 1986 tour of Japan. The large dots echoed the symbol of Japan, the Rising Sun. According to news reports, the courtesy was not lost on her hosts.
There are a number of other stories about Diana's subtle and thoughtful gesture in combing her undoubted sense of style to provide a diplomatic compliment.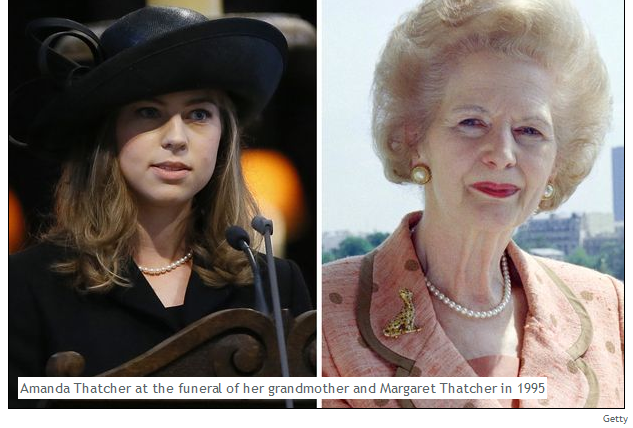 Recently, I noticed another such story, also from the United Kingdom.
Last week, Amanda Thatcher gave an apparently well received funeral tribute to her grandmother Margaret Thatcher at St. Paul's Cathedral.
While Mrs. Thatcher wasn't the style icon that Diana was, she was well known for her love of pearls which began when her husband Denis presented her with a single strand after the birth of their twins in the middle 1950s.
In fact, when early in her career she was advised by image consultants to ditch her pearls, it was the one piece of advice she refused to take.
Her granddaughter, Amanda wore a single strand of pearls at the funeral, an unmistakable tribute to the "Iron Lady." (I saw some speculation on-line that these pearls were the very ones that Mrs. Thatcher so loved. But that's not as important, really, as the gesture.)
Yes, it's a small thing, particularly for people who do have a lot of jewelry, but it's not to the party receiving the compliment. It will be noticed and appreciated and it's very good advice to keep in mind if you're asked "what to wear" by clients.